Catering & Hospitality
Shipping containers make a brilliant skeleton for bars, cafés, restaurants and even modern hotels because of their durability, transportability, modification potential, and the range of sizes available.
The very first shipping container hotel was in Uxbridge, West London, built out of 86 modified steel container units. Reports suggest that the structure was 25% faster and 10% cheaper to build than a typical hotel construction would have been!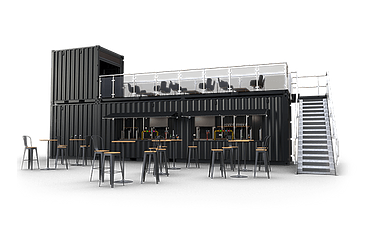 We can turn standard shipping containers into bespoke catering units built to your requirements. External cladding is available so your unit can fit in with any surrounding.
We provide standard shipping containers for sale or hire, as well as something bespoke to your specific requirements. This might include features like adding electrics, personnel door(s), windows, ventilation, shelving, or partition walls.
For further information on our great range of new and used containers for sale or hire along with details on delivery options and prices from each of our UK depots, please contact a member of our sales team today on 0330 005 5111, or feel free to fill in our enquiry form, we'll be in touch soon.
Can We Help?
Talk to us about your shipping container project today...