30ft Shipping Containers
30ft shipping containers are often used on larger industrial sites as they can handle the storage of larger items, where smaller units just aren't big enough.
Although 30ft containers aren't a standard size, they can be created by cutting down a 40ft unit, so if the exact length of 30ft is important, this is a service we can offer.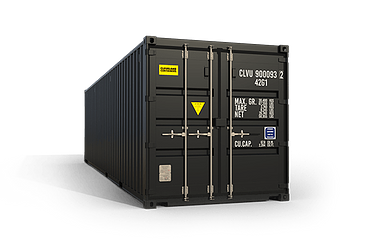 27mm Marine Plywood Floor

Lock Box Optional

Wind And Water Tight

Multiple Lashing Points

Multiple Air Vents
Our 30 foot shipping containers come in a variety of colours, and can be dispatched from your nearest depot – we have 15 in total across the country.
Choose between new and used models. All feature multiple air vents, 27mm marine plywood floor and multiple lashing points as standard, as well as being wind and watertight. A lock box is also standard in our new units, but are optional in used ones.
These units are used in a plethora of industries: from agriculture to retail, chemical to leisure and everything in between.
Applications for 30ft Shipping Containers
The size and versatility of these units make them very popular. They can easily be converted, with common modifications including bespoke doors and windows and roller shutter doors. Lighting, electrics and heating can also be installed.
Whilst many customers choose to use these containers for shipping and general storage, they can be used for so much more than that. Pop-up shops, bars, restaurants, offices, studios and electrical intake/switch rooms are just some of the things that these containers have been converted to.
Our 30 foot containers are robust, versatile and cost-effective, making them suitable for a range of applications and conversions. They're also very portable, and can be easily linked to larger units in a range of sizes.
Common modifications include: roller shutter doors, bespoke doors and windows, and the addition of heating, lighting and electrics.
What's included?
Available in standard, high cube, and tunnel. All models are wind and water tight, and come fitted with multiple air vents, a plywood floor, and multiple lashing points.
New and used units available. All new containers come fitted with a lock box as standard; the lock box is optional for used units.
You can also purchase a sliding shackle padlock for extra security.
Industries
These units are suitable for a broad range of industries, including construction, agriculture, self- storage, firework shops, supermarkets, retail, leisure and sports clubs, chemical suppliers, and energy companies.
Can't find what you're looking for? View our entire range of shipping containers.
External Dimensions
Length
Width
Height
Weight
30ft Standard
30ft
(9144mm)
8ft
(2438mm)
8ft 6ins
(2591mm)
3200kg
Internal Dimensions
Length
29ft 5ins
(8990mm)
Width
7ft 8ins
(2350mm)
Standard Height
7ft 10ins
(2389mm)
End Door Aperture Width
7ft 6ins
(2280mm)
Standard End Door Aperture Height
7ft 5ins
(2260mm)
Floor Area
227sq ft
(210900mm2)
Standard Cubic Capacity
1760cu ft
(49840mm3)
Weight
3200kg
Need Our Help?
Talk to us about your shipping container project today...