Confined Space Containers
Confined space containers are used as training facilities that can simulate potentially hazardous or challenging situations.
This allows for staff to practise working in a safe and controlled environment, developing their skills by learning how to deal with the hazards associated with the lack of space and light.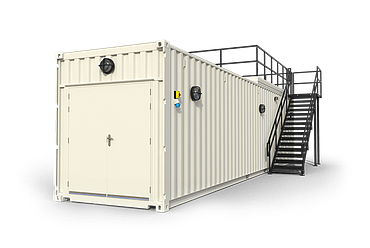 Our confined space units can be modified to the purchaser's individual requirements. We can install external features such as staircases and steel grated decking across the roof, as well as roof hatches that can be closed off for tasks to be completed in the dark. We are also able to fit personnel doors with panic bars to allow for a quick exit.

Internally, we can supply timber wall partitions, emergency lighting, ladders, and any other necessary materials needed for training purposes.

These bespoke training units are a cost-effective and valuable way for individuals to hone their skillset in a space created to mimic their potential working environments. They are particularly useful for industries such as fire and emergency services, telecomms, electrical and engineering.
Whether you need a hand choosing the right container for your needs or are looking for information on our delivery options or pricing, we're always on hand to help. Just give us a call on 0330 005 5111 on get in touch via [email protected].
Can We Help?
Talk to us about your shipping container project today...