Flat Pack Offices
Flat pack offices are flexible, secure, and easy to assemble, making them ideal solutions for a range of situations.
Our flat pack offices require no cranes or lifting equipment and can be used anywhere, whether it is in your garden or on a hard to access site!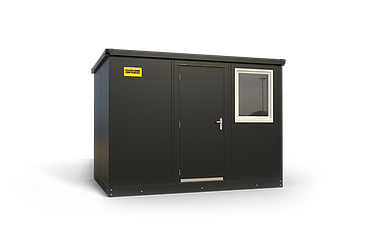 Flexible Flat Pack Offices
Available in a range of sizes, ExpandaKabin flat pack office systems are secure, durable and require no cranes or lifting equipment.
As they're fully man portable, these flat pack offices can be used anywhere - ideal for when a site can't be accessed by large vehicles.
Their galvanised steel construction is rust resistant and extremely secure. Double locks are standard on all ExpandaKabins. Specially designed die cast aluminium roof edges provide durability and strength and ensure that your office remains safe in transit between sites.
Ideal Garden Offices
Widely used by businesses, ExpandaKabins are great for domestic use too - these flat packs make ideal garden offices. Installation takes under an hour and requires just household tools. No specialist equipment is needed to set up our flat pack offices.
The thick steel walls offer great security for your home office equipment, and are fully insulated too. The double-glazed window has recently been increased in size, so pleasant levels of natural light fill the office, without compromising on security.
Key features of the ExpandaKabin flat pack office:
No crane or lifting equipment needed
Quickly demounts into flat pack form
Fully flexible - available in several sizes
Fully insulated, light & spacious
No specialist tools or fixings required for assembly
Ready for use in under an hour
Suitable for use wherever you can carry it
Secure double locks
Thick, sturdy steel walls
Expandakabins can also be linked to create larger office areas
Interested in a flat pack office?
To find out more about our range of flat pack offices and how they could work in your commercial or domestic setting, simply fill in the enquiry form below and a member of our team will be in touch.
External dimensions (excluding gutter)
Length
Width
Height
Weight
2m
7ft 4ins
(2242mm)
7ft 9ins
(2383mm)
7ft 8ins
(2350mm)
650kg
3m
10ft 10ins
(3307mm)
7ft 9ins
(2383mm)
7ft 8ins
(2350mm)
838kg
4m
14ft 4ins
(4372mm)
7ft 9ins
(2383mm)
7ft 8ins
(2350mm)
920kg
Providing extra office space…when and where you need it…
Expandacom is the market leading flat packed office building and is the ideal solution for getting offices in previously inaccessible areas. Ideal for a wide range of uses, each unit is man portable, easy to erect and disassemble meaning they can used wherever you work and need office space.
Man-portable: No lifting gear or cranes required
Demountable: Dismantles into flat pack form quickly
Extendable: Additional units can be added either side by side or back to back
Complete: Everything required for assembly is in the kit. No additional fixings needed
Secure: Double locking system is standard
Simple: No specialist tools are required for assembly, just a socket set
Quick: Ready to use in less than an hour
The design and construction of Expandacom offers complete flexibility as each unit is robust and fully insulated yet light enough to be manhandled onto site. In fact, as the only totally man-portable 20ft office building on the market, they are completely unique and provide a comprehensive range of office space solutions for many industries and users.
This includes:
Building sites with limited access
Office space below ground level
Offices in retail parks
Schools that require temporary office space
Local authorities
Outdoor attractions
Showgrounds and event organisers
Length
Width
Height
Weight
With Gutter
20ft 4ins
(6204mm)

7ft 7ins
(2309mm)

7ft 8ins
(2590mm)

1286kg

Without Gutter
20ft 4ins
(6204mm)

7ft 10ins
(2391mm)

7ft 8ins
(2590mm)

1286kg
Can We Help?
Talk to us about your shipping container project today...