Workshops
Our standard shipping containers can easily be converted into workshops by installing insulation and lining, shelving, electrics, and many other internal and external fittings.
Our converted workshops are tailor-made to the customer's needs and requirements, providing a workspace that is optimised for maximum productivity.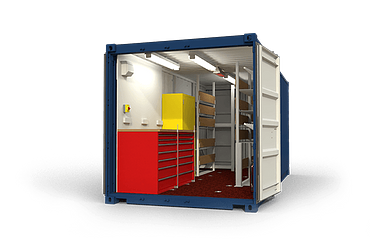 With multiple fittings and a number of size containers in stock, we can design, produce and supply a bespoke solution for you. Our extensive range of sizes and modifications will ensure that we can provide the ideal workshop for you.
Workshop sizes range from 6ft to 45ft.
Internal fittings can include:
Insulation and lining
Electrics
Safety flooring
Workbenches
Shelving/racking
Tool storage
Partition walls/internal doors
Vents and extractor fans
Grafotherm treatments
External fittings can include:
Anti-vandal doors and windows
Roller shutter doors
Repaint
For further info on our range of new and used containers for workshop conversions, including details and prices on delivery, please contact a member of our sales team on 0330 005 5111, or fill in our enquiry form below.
Can We Help?
Talk to us about your shipping container project today...