10ft Shipping Containers
Our 10ft shipping containers are a great option for small-to-medium sized storage requirements, when space is at a premium.
They are most commonly used for shipping and storage applications, holding general tools, site equipment and household goods.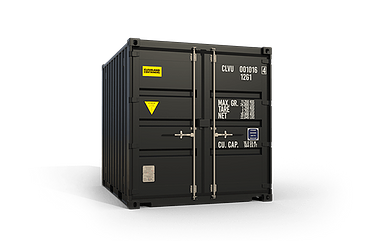 Lock Box Included

27mm Marine Plywood Floor

Blue / Green Available

Wind And Water Tight

Multiple Lashing Points

Multiple Air Vents
27mm Marine Plywood Floor

Lock Box Optional

Wind And Water Tight

Multiple Lashing Points

Multiple Air Vents
Available in a variety of colours, they can be delivered from one of our 15 depots across the UK.
A range of new or used models are available, and come with the following as standard: multiple air vents, 27mm marine plywood floor and multiple lashing points, as well as being fully wind and watertight. Please note that whilst a lock box comes as standard in all new models, they're only optional in used ones.
These models can be used in a variety of applications and industries: supermarkets, chemical suppliers, agriculture and leisure clubs are just some of the businesses that make use of them.
We are the nationwide supplier to Persimmon Homes, frequently providing them with 10ft shipping containers for their construction projects.
Applications for 10ft Shipping Containers
One of our most popular sizes, they are easily converted, especially when available space is restricted. Common modifications include roller shutter doors, bespoke doors and windows, as well as the installation of heating, lighting and electrics.
Enquiries about 10ft Shipping Containers
We know your needs can be site-specific and constrained, and we are market leaders in keeping our customers' requirements at the forefront of project completions. If you would like to make an enquiry regarding our 10ft range, then please fill out the form below and we will be in contact shortly.
Applications
Our 10ft containers are fantastic when space is limited, and particularly useful for secure site storage. They have a range of applications, including chemical storage, welfare/washroom units, and archive storage. They are also easily converted; we regularly install bespoke doors, windows, and roller shutter doors, and make other modifications - just let us know what you need.
What's included?
Available in standard format. All models are wind and water tight, and come fitted with multiple air vents, a plywood floor, and multiple lashing points.
New and used containers available. All new products come fitted with a lock box as standard; the lock box is optional for used models.
You can also purchase a sliding shackle padlock for extra security.
Industries
This range is suitable for a broad range of industries, including construction, agriculture, self- storage, firework shops, supermarkets, retail, leisure and sports clubs, chemical suppliers, and energy companies.
As the nationwide supplier to Persimmon Homes, we frequently provide 10ft shipping containers for their construction projects.
Click here if you'd like to view more shipping container models.
External Dimensions
| Length | Width | Height | Weight |
| --- | --- | --- | --- |
| 10ft (2991mm) | 8ft (2438mm) | 8ft 6ins (2591mm) | 1250kg |
Internal Dimensions
| | |
| --- | --- |
| Length | 9ft 4ins (2841mm) |
| Width | 7ft 9ins (2352mm) |
| Standard Height | 7ft 10ins (2393mm) |
| End Door Aperture Width | As req. |
| Standard End Door Aperture Height | As req. |
| Floor Area | 72sq ft (6.69m2) |
| Standard Cubic Capacity | 560cu ft (18.89m3) |
| Weight | 1.5t (1.52t) |
Can We Help?
Talk to us about your shipping container project today...
Other sizes...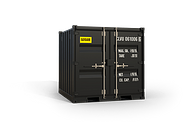 Our 6ft shipping containers may be the smallest of our offerings, but they're also the most cost-effective.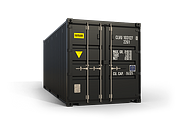 We offer an extensive range of 20ft shipping containers for sale or hire at great prices, available throughout the UK.