20ft Shipping Containers
Our impressive range of 20ft shipping containers are perfectly suited for a variety of purposes, including storage, transportation and conversions.
Representing good value for money, they're perfect for domestic and general storage requirements, especially when safety and security are paramount.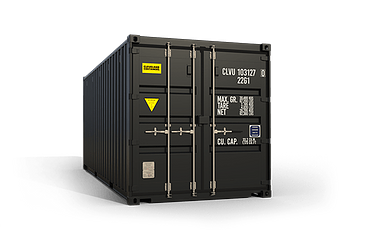 20ft shipping containers are used for a range of applications, most commonly for shipping and general storage, however they can be modified and converted for bespoke creations such as shops, pubs, studios, and canteens.
The industries they can be used in are just as varied – construction, agriculture, self storage and education are just some examples among many others.
20 Foot Shipping Container Features
We offer a selection of new and used 20ft shipping containers. All are built with plywood flooring, multiple lashing points and air vents, and are fully wind and watertight. All new models come with a lock box as standard too, whereas these are optional in used containers. You can also purchase a padlock from us for extra security. All our 20ft new (one trip) shipping containers are built to an extremely high specification making them the most secure, long lasting and cost-effective container money can buy. The majority of them are fitted with 14+ air vents, polyurethane (PU) coated floors, grease nipples and easy opening door bars.
Variations of 20 Foot Shipping Containers
There are many types of 20ft containers, all with varying access points:
Standard: Available new, used and refurbished, standard 20 foot containers are the most popular size and type.
High Cube: Available new, high cubes are same length and width as a standard size but with an extra foot of height.
Tunnel: Available new, tunnel containers have cargo doors at both ends of the unit.
Tri Door: Available new, tri doors have a single door at the back of the container.
Side Opening: Available new, side openers have doors that open across the entire length of the unit.
Open Top: Available used, open tops allow for cargo to be loaded from the roof.
20 Foot Shipping Container Applications
Our 20ft containers are extremely versatile, making them suitable for a range of conversions, including custom-made biomass boiler housing, chemical storage, pop-up shops, studios, offices, bars, restaurants, workshops, canteens, hotels, temporary laboratories, electrical intake/switch rooms and many more.
Common modifications include adding roller shutter doors, bespoke doors and windows, and heating, lighting, and electrics. Take a look at our past projects and case studies here.
The dimensions of a 20ft shipping container are 20ft (6 metres) by 8ft (2.4 metres). If being used for transportation, a standard 20ft unit can hold 11 euro pallets, or 10 standard pallets.
Industries
Suitable for a broad range of industries, including construction, self storage, firework shops, supermarkets, retail, sports clubs, agriculture chemical suppliers, and energy companies, 20ft shipping containers are useful for every sector.
As the nationwide supplier to Persimmon Homes, we frequently provide 20ft containers for its construction and housebuilding projects. Click here for our full range of shipping containers for sale.

20 Foot Shipping Container Prices
The cost of a 20ft shipping container depends on several factors such as the type and condition (new or used), as well as the location of where it is needed.
We have stock available nationwide, conveniently located at various depots across the UK, so we can serve our customers all over the country with their requirements.
Please enquire for an accurate quote in your area.
External Dimensions
Length
Width
Height
Weight
20ft Standard
20ft
(6058mm)
8ft
(2438mm)
8ft 6ins
(2591mm)
2185kg
20ft High Cube
20ft
(6058mm)
8ft
(2438mm)
9ft 6ins
(2896mm)
2,340kg
20ft Side Opening Standard
20ft
(6058mm)
8ft
(2438mm)
8ft 6ins
(2591mm)
3180kg
20ft Side Opening High Cube
20ft
(6058mm)
8ft
(2438mm)
9ft 6ins
(2896mm)
3340kg
20ft Tunnel Standard
20ft
(6058mm)
8ft
(2438mm)
8ft 6ins
(2591mm)
2300kg
20ft Tunnel High Cube
20ft
(6058mm)
8ft
(2438mm)
9ft 6ins
(2896mm)
2450kg
20ft Open Top Standard
20ft
(6058mm)
8ft
(2438mm)
8ft 6ins
(2591mm)
2240kg
20ft Tri Door Standard
20ft
(6058mm)
8ft
(2438mm)
8ft 6ins
(2591mm)
2185kg
Internal Dimensions
Length
19ft 4.2ins
(5898mm)
Width
7ft 8ins
(2352mm)
Side Opening Width
7ft 6ins
(2287mm)
Standard Height
7ft 10ins
(2393mm)
High Cube Height
9ft 5ins
(2698mm)
Side Opening Standard Height
7ft 6ins
(2302mm)
Side Opening High Cube Height
9ft 5ins
(2698mm)
Open Top Height
7ft 8ins
(2350mm)
End Door Aperture Width
7ft 6ins
(2280mm)
Standard End Door Aperture Height
7ft 5ins
(2260mm)
High Cube End Door Aperture Height
8ft 5ins
(2565m)
Floor Area
150sq ft (13.9m2)
Standard Cubic Capacity
1172cu ft (33.2m3)
High Cube Cubic Capacity
1321cu ft (37.4m3)
Frequently Asked Questions
A standard height 20ft shipping container can fit 10 Standard Pallets which are 1,000mm by 1,200mm wide each, and with efficient packing it can hold 11 Euro Pallets which are 800mm by 1,200mm each and more commonly used in transportation. More information on pallets can be found on our blog.
The cubic metre capacity (CBM) of a 20ft standard shipping container is 33.2m3 and the CBM of a 20ft high cube shipping container is 37.4m3.
The tare weight of a shipping container is how much the unit weighs when it is empty. A standard height 20ft container weighs approximately 2,185kg (4,820lbs) when empty and a 20ft high cube container weighs approximately 2,340kg (5,159lbs).
Can We Help?
Talk to us about your shipping container project today...