40ft Shipping Containers
We stock a wide variety of versatile 40ft shipping containers for our customers nationwide.
They are fit for the same purposes as our smaller models, but with so much more room available, you don't have to be constrained, or compromise on space.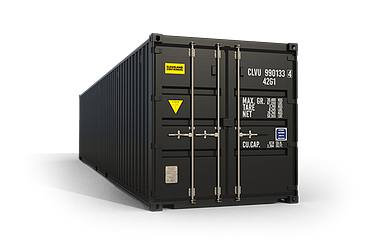 If you require plenty of space for the safe and secure storage of goods, then our 40ft shipping containers could be the perfect option. Their impressive size and the specialised types available provide various access options for multiple uses. Not just used for storage and shipping, the 40ft container is suitable for a range of applications. Because of their size and versatility, they can be converted to host pop-up shops, offices, bars, restaurants, studios and much more.
40 Foot Shipping Container Features
We provide new and used models of 40ft shipping containers, which come with 27mm marine plywood flooring, multiple lashing points and multiple air vents as standard. All 40ft units are wind and watertight, so you can rest assured that the contents inside will be fully protected. New models also come with a lock box as standard, however, this is an optional feature of our used / second-hand containers.
Variations of 40 Foot Shipping Containers
We stock multiple types of 40ft container to buy and rent. All with varying access points but still wind and watertight, our 40ft containers are available for sale and hire in the following variations:
Standard: The most popular form, with dimensions of 40ft x 8ft and a height of 8ft 6 inches.
High Cube: 40ft high cube containers have the same length and width dimensions of the standard but with an extra foot of height (9ft 6 inches).
Tunnel: Available in standard and high cube, 40ft tunnel containers have cargo doors at both ends of the unit.
Tri Door: Available in high cube height only, the tri door features one additional door at the back of the container.
Side Opening: Available in high cube height only, side openers also have doors across the entire length of the unit providing plenty of access.
Open Top: Features a tarp roof for the loading of particularly large cargo.
Not what you were looking for? View our full range of shipping containers.
40 Foot Shipping Container Applications
Because of their size, 40ft containers can easily be converted, which is one reason why they're one of our most popular units. 40ft shipping containers are extremely versatile, making them a blank canvas for a range of applications, including custom-made confined space training units, biomass boiler housing, welfare/washroom units, chemical storage, pop-up shops, studios, offices, bars and restaurants, workshops, canteens, temporary laboratories, electrical intake/switch rooms and many more. Common modifications include but are not limited to roller shutter doors, bespoke doors and windows, heating, lighting, and electrics.
Our 40ft containers are used across a variety of industries including retail, leisure, sports, chemical and energy companies. Chances are, they'll be extremely useful in the industry you operate in too!
40 Foot Shipping Container Prices
Our 40ft containers are available for sale and hire. The cost of them can vary depending on several factors such as the desired location of the unit, whether it is new or used, and whether it is a specialised type, for example high cube or side opening. If you would like to buy or hire a 40ft shipping container, please enquire to receive an accurate quote for your location.
External Dimensions
Length
Width
Height
Weight
40ft Standard
40ft
(12192mm)
8ft
(2438mm)
8ft 6ins
(2591mm)
3620kg
40ft High Cube
40ft
(12192mm)
8ft
(2438mm)
9ft 6ins
(2896mm)
3700kg
40ft Side Opening High Cube
40ft
(12192mm)
8ft
(2438mm)
9ft 6ins
(2896mm)
6580kg
40ft Tunnel Standard
40ft
(12192mm)
8ft
(2438mm)
8ft 6ins
(2591mm)
3815kg
40ft Tunnel High Cube
40ft
(12190mm)
8ft
(2438mm)
9ft 6ins
(2896mm)
4100kg
40ft Open Top Standard
40ft
(12190mm)
8ft
(2438mm)
8ft 6ins
(2590mm)
3850kg
40ft Tri Door High Cube
40ft
(12190mm)
8ft
(2438mm)
9ft 6ins
(2896mm)
3750kg
Internal Dimensions
Length
39ft 5.7ins
(12032mm)
Width
7ft 9ins
(2352mm)
Side Opening Width
7ft 6ins
(2287mm)
Standard Height
7ft 10ins
(2393mm)
High Cube Height
8ft 9ins
(2634mm)
Side Opening Height
8ft 1ins
(2471mm)
Open Top Height
7ft 8ins
(2350mm)
End Door Aperture Width
7ft 6ins
(2280mm)
Standard End Door Aperture Height
7ft 5ins
(2260mm)
High Cube End Door Aperture Height
8ft 5ins
(2560mm)
Floor Area
305sq ft
(28330mm2)
Standard Cubic Capacity
2360cu ft
(66830mm3)
High Cube Cubic Capacity
2660cu ft
(75320mm3)
Frequently Asked Questions
40ft standard height shipping containers can fit up to 20 Standard Pallets, and 24 Euro Pallets. As Euro Pallets are 200mm narrower, they can be positioned lengthwise in a 40ft container, however Standard Pallets cannot. More information on how many pallets fit into different sizes of containers can be found on our blog.
The cubic metre capacity (CBM) of a standard 40ft shipping container is approximately 2,360cu ft (66.83m3) and the cubic capacity of a high cube 40ft container is 2,660cu ft (75.32m3).
We have 15 depots nationwide that stock a variety of sizes and types of shipping containers, so we can deliver a 40ft container to many locations across the UK. Enquire now for a quote to purchase and transport a 40ft container to your area.
Can We Help?
Talk to us about your shipping container project today...