FAQs
There is a lot to consider when purchasing a shipping container – the difference in condition between new and used units, the range of sizes and types we offer, and how they are delivered and maintained.
Here, we guide you through the most common questions we receive to help you choose the container that is right for you and understand how to look after them once purchased.
GENERAL
What is a new one trip container?
All of our new containers are one trip, which means the container has been used for one journey from the manufacturer. In doing so this keeps the costs down to transport the container to our depots.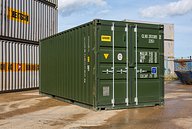 What is a used container?
Our used shipping containers are a minimum age of 10 years old. They have spent their lifetime being shipped internationally and are still structurally sound and weather-proof.
A used shipping container should last 20+ years from date of purchase with little maintenance, so will last considerably regardless of its age.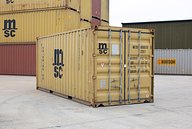 Why buy a container from Cleveland Containers?
We are the leading supplier of new and used shipping containers in the UK for sale and hire. Our team have over 15 years' experience in the industry and are more than happy to assist with any enquiry you have big or small. From bespoke conversions to standard self-storage solutions we have it all.
Do you modify shipping containers?
Yes we do, we have a full conversions and design team on hand to assist any project or modifications you may require. Visit our bespoke page for further details of some of the possibilities.
Do we buy back containers?
We do offer buy back for some of our containers. Please be aware the price will reflect on the return condition of the container.
Are shipping containers weatherproof?
Shipping containers are built for the purpose of transporting cargo safely worldwide. Therefore they are designed to be weatherproof with full wraparound seals around the doors. However, shipping containers do not float, if submerged in water they will sink.
How much do shipping containers weigh?
The average tare weight (weight of a container empty) varies depending on size but are generally around the following empty weights; 20ft 2.5 tonnes, 30ft 3 tonnes, 40ft 4 tonnes.
What are shipping containers made of?
Shipping containers are generally made of steel occasionally aluminium with a hardwood floor.
What are shipping containers ?
Shipping containers are containers that a suitable to withstand shipment/transport, storage and handling. Due to handling They are constructed to ISO standards (International Standards Organisation), well built and extremely strong, with an exception life span. Ideal for short and long-term storage, they are very secure, weather tight are very versatile pieces of equipment that can be converted into; offices, cabins, mess-rooms, control rooms, changing rooms and the list goes on. The containers are generally 8ft wide by 8ft 6 inches high and are generally 10ft, 20ft, 30ft, 40ft and 45ft as standard. Different sizes can be made by modifying standard boxes into lengths such as 6ft, 8ft, 12ft and anything else in between.
Can shipping containers be stacked?
Any of our shipping containers that are standard or high cube can be stacked, open top containers however cannot. If you require your container to be stacked we twist lock pins to secure the container on top of each other safely.
CONTAINER SECURITY
How secure are shipping containers?
Shipping containers are built to be very strong and secure. Security can be compromised if padlocks are used on locking bars and they are cut. We recommend the use of a lockbox and thatcham approved high security padlock to prevent unauthorised access. We sell the Squire Stronghold container padlock that are CEN 4 rated (high security) that fits under a lockbox keeping your container and contents protected. Additional security features such as portable or wireless alarms can be installed for additional peace of mind.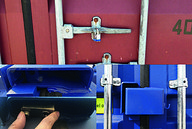 DELIVERY
How do I get my container delivered?
We can provide delivery for any size box and these will be delivered on a HIAB vehicle (crane mounted to the vehicle) which will lift the container to the ground. An assessment of the site might be necessary to establish if access for the vehicle is possible. Cost of delivery is available on request. For our standard containers, delivery is generally 5-7 working days from payment. If any modifications are to be added to the container this will extend the delivery wait.
It is useful to have someone onsite during delivery, responsible for assisting the driver in case of restrictive access or any further issues that may arise at the time.
Our stock is held across 15 depots nationwide. If you require a shipping container for international shipping, please note we can only supply the container. Our drivers are able to deliver to specified docks or have them dropped for loading, but we cannot organise the shipping of containers.
If you have concerns regarding delivery, we are happy to provide advice and guidance to ensure the container can be installed with minimal disruption.
Does a shipping container require planning permission?
Containers are classed as temporary structures and in most instances are not subject to planning laws. However, it is always advisable to seek assurances from your local planning office and any neighbours who could be affected by the siting of your container.
If you are looking to build a shipping container home, planning permission will be required. If your structure requires a foundation, you'll need to apply for planning permission.
How do I prepare a site for a container?
Shipping containers require a solid level foundation with approximately 5 foot clearance to allow the doors to be opened. The containers only need support in under the four corners due to their rigid construction from high tensile, rust inhibiting steel. Ideal supports include concrete bases, flag stones or railway sleepers. For a successful delivery we suggest:
You ensure access is at least 10ft wide for our vehicles to enter the site
Your site has no sharp turns
Your site is on hardstanding, level ground
There are no overhead cables above desired placement site
At placement, site lorry must be able to extend their 6ft HIAB legs
Please be aware our vehicles cannot drive over grass/fields, so prior to delivery ensure access to drop site is over tarmac grounds
MAINTENANCE
Are shipping containers affected by condensation?
Evidence shows that the construction of modern containers helps prevent condensation such as multiple vents, moisture traps and grafo-therm coatings. If your usage requires additional moisture traps, they can be supplied. These traps last approximately 6-8 weeks between replacement. Grafo-therm coating that offers a longer standing protection against condensation. Condensation is more likely to occur when a container is sat on cold, damp ground such as soil; the cold from the earth permeates the container and lowers the temperature of the air inside thus causing condensation. All air has moisture in it therefore reducing the amount of air in the container minimises the chances of condensation; this can be done by ensuring items are placed in the container on a dry day. A container can also be vented on a dry day to allow air to circulate. We discuss various ways to combat condensation in our blog post here.
Do shipping containers require maintenance?
Shipping containers are relatively low maintenance. Shipping containers that are used as static storage rarely require any attention; the steel work is unlikely to deteriorate as long a it is coated in high quality paint. Door hinges and locking bars make require lubricating with oil to keep them free moving and door seal will deteriorate over time but again these are easily replaced and should last in the region of 10 years.
Are shipping containers homes cheaper than standard homes?
Shipping container homes tend to be cheaper than a standard home. However when buying a shipping container home extra fees like purchasing land for siting the home and any extra modifications may occur.
We can help you create your perfect shipping container home with our in house design team on hand to assist you in visualising your goal.
Need Our Help?
Talk to us about your shipping container project today...