Insulated Containers
There are several reasons to insulate shipping containers. Doing so reduces the risk of condensation, prevents items from freezing, and is particularly useful for storing valuable items.
Delicate items such as important documents, papers, books, household items, electrical items, furniture, and even food all benefit from having a consistent temperature.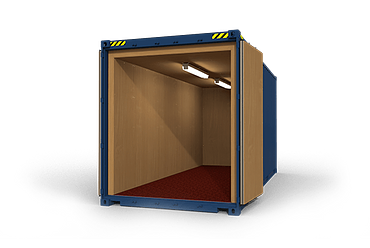 Insulated Containers
Insulated shipping containers are available in a range of sizes such as 10ft, 20ft, 30ft and 40ft. Storage requirements such as climate control and reduced risk of condensation would be best suited to this type of container conversion. Insulated containers are often purchased and further converted into bespoke projects such as offices, workshops, restaurants, bars and much more. These modifications typically have people working in them as well as being used for storage so a temperature controlled environment is essential.
Insulation Process
When insulation is required, we insulate our shipping containers using a three-step process. Initially we create a stud wall which is attached directly to the shipping container. We then install quality approved insulation into the stud wall which securely holds the insulation. This features a highly robust thermoset core and composite foil facings. The last stage involves adding either plywood or melamine lining over the top of the insulation and stud wall. This acts as an ideal base for further additions such as shelving units or other objects, and can be easily painted.
Popular containers which tend to be insulated include tunnels and tri doors as many self storers purchase these to optimise their sites. These units are often fitted with a partition, providing access at both ends for storage use.
Additional Temperature Controlled Solutions
Alternative solutions for a more temperature controlled environment includes Grafo-Therm Anti Condensation treatment and non operational refrigerated containers. If the unit is to store goods made from materials which are easily perishable, the appropriate solution for this would be Grafo-Therm, which reduces the risk of condensation.
Individuals often purchase non operational refrigerated containers as they are already insulated, providing climate control for storage even though the refrigerated section doesn't work.
Frequently Asked Questions
Can We Help?
Talk to us about your shipping container project today...