10ft Storage Containers
Ideal for storage on smaller sites, our 10ft containers are a secure and affordable solution for your business needs.
A more affordable and compact substitute to our other shipping containers, the 10ft container is a great alternative for small storage requirements!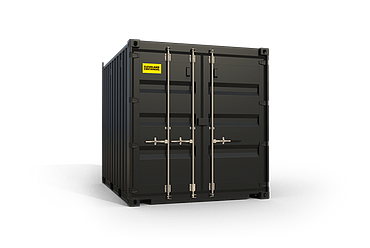 Lock Box Included

27mm Marine Plywood Floor

Blue / Green Available

Wind And Water Tight

Multiple Lashing Points

Multiple Air Vents
Effective Storage for Small to Medium Sites
A more affordable alternative to our shipping container of the same size, the 10ft storage container has been manufactured from our 20ft containers to create this new, more compact size. Available in both standard and high cube height (which provide an additional 1ft of height), they are ideal for small to medium storage requirements.
Each container comes equipped with forklift pockets, as well as lifting eyes that are added to the roof to allow for easy transportation. Wind and water tight, they're designed to protect against elemental damage, so won't see weathering or damage of goods held inside. A lockbox is also fitted as standard, to prevent forced entry and help to alleviate security concerns.
10ft Storage Container Applications
Suitable for a range of applications, the 10ft storage container lends itself particularly well to small sites - whether that's a construction site, or as part of a home renovation project. Suitable for remaining static for long periods of time, this container is ideal for storing tools and equipment, household goods or personal belongings.
Want to Know More?
To find out more about our 10ft storage containers and how they could suit your specific needs, simply fill out the enquiry form and one of our team will be in touch.
Can We Help?
Talk to us about your shipping container project today...