Container Bars
Whether you want to create your very own personal bar, or you're a business looking to become portable, our container bars can be made bespoke to meet your requirements.
Container bars are becoming increasingly popular because of their quirkiness and conversion potential. We can install traditional bar features such as worktops, shelves and serving hatches as well as electrics and lighting, working with you throughout the entire process to ensure that your vision becomes a reality.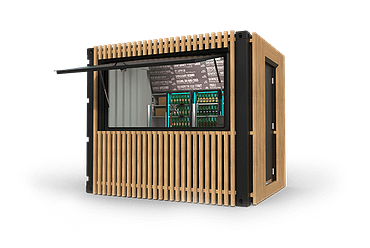 At Cleveland Containers, our bar conversions are available in three varying conversion levels:
The Gribdale
The Gribdale is created for a casual setting, mixing the industrial shell of our container with a functioning bar inside.
These bars are ideal for your home bar arrangements.
The Roseberry
Externally, the Roseberry bar is panelled and partially cladded and is fitted with a standard door.
These bars are perfect for a business looking to franchise or to add a portable bar to another site.
The Carlton
The Carlton conversion is fully clad externally, and features a regular door and multiple serving hatches.
These container bars can be used for business purposes or they can also make a great garden bar which will give your garden a contemporary look & feel.
Our container bars are fitted with many features, for example:
Worktops, shelves and cupboards
Serving hatches
High standard of painting & finishing
Electrics and lighting
Check out our blog post about container bars here for inspiration.
Can We Help?
Talk to us about your shipping container project today...