Farming and Agriculture
Shipping containers are an extremely useful resource for the farming and agricultural industries as they can be used for multiple purposes such as general storage or even as a handy office space.
They are very low-maintenance and arrive either ready to use or require very little set up, so they can be used immediately.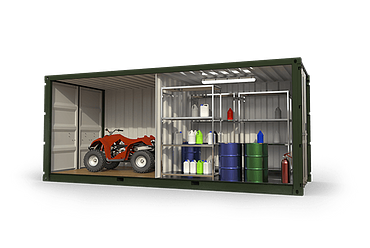 They are a strong wind and water-tight container, offering cost-effective, flexible, secure storage.
Due to their modular nature, it is easy to add or subtract metal storage units at very short notice, to fit your requirements. With extensive stocks of both new and used shipping containers for sale or hire into the farming and agriculture sectors, from our depots located across the UK, you can acquire a unit from 6ft right through to 45ft. Whatever your requirements and budget, a metal storage container could be the perfect farm storage option for you.
The majority of our standard size units are available immediately, with delivery usually possible within 48 hours from most of our depot locations.
Farming and agricultural applications of our storage units include:
Tack room
Secure machinery store
General equipment store
Farm office
Animal feed storage
Grain storage
We can provide either standard shipping containers for sale or hire or we can create something bespoke to your specific requirements. This might include features like adding electrics, personnel door(s), windows, ventilation, shelving, or partition walls.
For further information on our great range of new and used containers for sale or hire along with details on delivery options and prices from each of our UK depots, please contact a member of our sales team today on 0330 005 5111, or fill in our contact form, we'll be in touch soon!
Can We Help?
Talk to us about your shipping container project today...