Motorbike Storage
Need a space to work on your motorbike? Or a simple, safe, and secure place to keep it? A storage container may be perfect solution for you.
Our range of container sizes allow you to choose the right unit to fit in your available space, and we can also install extras such as windows and roller shutter doors for increased light and additional access.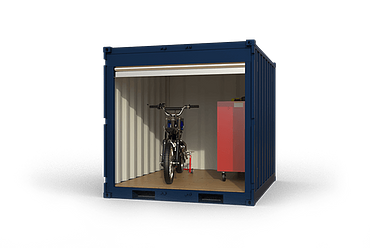 We have sizes available from a compact 6ft right through to 45ft, giving you plenty of space for all of your bike and equipment.
Our storage containers were originally manufactured for transporting items across the world by land or by sea, so you can rest assured that they are a durable, secure, protective environment for any type of storage.
Putting security first. Our units are built using robust reinforced steel to keep all our equipment safe and secure.
We provide standard shipping containers for sale or hire, as well as something bespoke to your specific requirements. This might include features like adding electrics, personnel door(s), windows, ventilation, shelving, or partition walls.

For further information on our great range of new and used containers for motorbike storage along with details on delivery options and prices from each of our UK depots, please contact a member of our sales team today on 0330 005 5111, or fill in our enquiry form below.
Can We Help?
Talk to us about your shipping container project today...