Services
As well as the sale, hire and UK delivery of both new and used containers, we also offer a substantial range of shipping container services to further aid our customers.
We provide conversion services and technical services such as repair, refurbishment, and repainting as well as supplying units to the self-storage industry.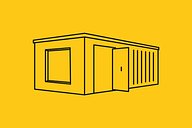 Shipping Container conversions can mean anything, depending solely on your vision! These units can be a blank canvas for your needs and requirements.
Can We Help?
Talk to us about your shipping container project today...