Chemical Storage Containers
As with other Cleveland units, we can offer chemical storage containers for hire or sale in traditional dimensions, or create a bespoke unit for sale to cater specifically to your personal needs.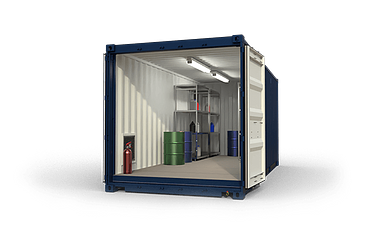 Securable Units (Internal Double Locking Doors)

Louvre Vents

High Steel Bund

Fork Pockets

Floor Drain Plug with Emptying Point

Chequer Plate Floor
We can offer Chemical Storage Containers for sale in traditional dimensions, or create a bespoke unit to cater specifically to your personal needs.
Our Chemical Storage Containers are fitted with many features, for example:
Large louvred ventilators, compliant with all regulation.
Removable, galvanised steel grated floor.
A drainage cap fitted to sump.
A bund capacity fit to meet all appropriate regulations.
A bund built integrally into the floor.
Built on a BASIS approved design
Getting your delivery safely to your door.
Our trusted team of hauliers function all over the UK enabling us to provide competent, friendly delivery to you. Usually only possible on weekdays, between 7am-8pm, delivery can be organised outside of these times by prior discussion.
For difficult sites, we provide site visits (all the team have passed their CSC card test) so that our hauliers better understand any difficulties they might face onsite. A visit onsite helps to minimise any cause of accidents, but crucially also allows us to provide full productivity and efficiency when onsite.
If the container is for shipping, we can provide a CSC verification certificate; our professionals will gauge whether it is fit for purpose and certify it to ensure it is all structurally sound and ready for shipping.
A chemical container can fulfil many bespoke functions – for information about whether we can help you, or for information on costs and delivery, call our sales team today on 0330 005 5111 or [email protected].
Need Our Help?
Talk to us about your shipping container project today...