Side Opening Shipping Containers
Side opening containers are a great investment for businesses who need to access cargo quickly or at short notice.
Not only do side opening containers feature the traditional double doors on one end, but the entire length can also be opened to reveal the full interior of the unit allowing larger items to fit seamlessly in comparison to standard shipping containers.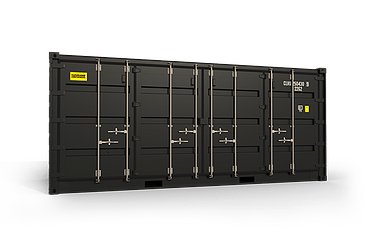 Lock Box Included

27mm Marine Plywood Floor

Blue / Green Available

Wind And Water Tight

Multiple Lashing Points

Multiple Air Vents
Complete Side Access
Our range of side opening containers have been manufactured to the highest quality. The removal of the standard doors offers full side access, and creates a unique opportunity for storage space. Unlike with standard containers, there's no issue with accessing items at the back of the container, giving businesses more flexibility with their stock.
Available in both standard and high cube specifications, and in 20ft and 40ft lengths, they're suitable for many different types of cargo. Wind and water tight, they are also designed to protect against the elements.
Side Opening Container Applications
Due to their easy forklift access, and the ease with which pallets can be picked up, side opening containers are ideal for businesses who are looking to store their stock.
Side opening containers are also a popular choice for a number of conversion projects, due to their quick set-up time and ease of transportation. This includes the likes of pop-up bars and restaurants, exhibition stands, and even ticket sales offices.
Find Out More
To learn more about the benefits of a side opening container, and how they could work for your business, just get in touch via the enquiry form and a member of our team will be able to discuss your requirements.
External Dimensions
Length
Width
Height
Weight
20ft Standard
20ft
(6060mm)

8ft
(2430mm)

8ft 6ins
(2590mm)
3080kg
20ft High Cube
20ft
(6060mm)
8ft
(2430mm)
9ft 6ins
(2890mm)
3480kg
40ft High Cube
40ft
(12192mm)
8ft
(2430mm)
9ft 6ins
(2890mm)
5830kg
Internal Dimensions
Length
Width
Height
Weight
20ft Standard
19ft 3ins
(5870mm)
7ft 7ins
(2330mm)
7ft 9ins
(2350mm)
3170kg
20ft High Cube
19ft 3ins
(5870mm)
7ft 7ins
(2330mm)
8ft 9ins
(2650mm)
3440kg
40ft High Cube
39ft 4ins
(12000mm)
7ft 7ins
(2330mm)
8ft 9ins
(2650mm)
5830kg
Can We Help?
Talk to us about your shipping container project today...