News & Blog
Keep up to date with the latest company news and read our interesting and informative blogs discussing all aspects of the shipping container industry.
From our useful guides on container maintenance, conversions, and best practice, to our latest company announcements, we've got plenty of reading material for you to delve into and learn a thing or two from.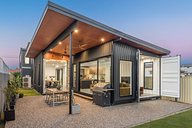 Whether you want to live a minimalist lifestyle, or you just want to leave the hustle and bustle of living in towns and cities behind, container homes are great to create your own retreat!