Changing Rooms
Shipping containers lend themselves well to becoming a useful changing room area, with benches, hooks, windows, doors, and electrics all being simple additions to make.
The units are secure and portable meaning that all belongings are stored safely inside and can easily be transported to different locations if needed. Our changing rooms are fully customisable, so any extras that you require such as toilet or shower facilities can all be accommodated to suit your needs.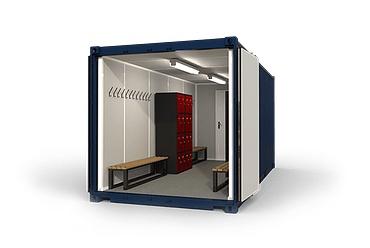 Protecting from wind and rain, they are a perfect option for on site changing rooms in virtually any location, at an affordable price.
Our units are bespoke to meet your needs too, meaning your changing room can have as many lockers, shelves and seats as you require.
Worried about the weather? Us too. But our insulation and heating solutions mean that you'll stay warm all year round.
We provide standard shipping containers for sale or hire, as well as something bespoke to your specific requirements. This might include features like adding electrics, personnel door(s), windows, ventilation, shelving, or partition walls.
For further information on our great range of new and used shipping containers for sale or hire along with details on delivery options and prices from each of our UK depots, please contact a member of our sales team today on 0330 005 5111, or fill in our enquiry form - we'll be in touch shortly.
Can We Help?
Talk to us about your shipping container project today...