Garden Rooms
Shipping containers are increasingly being used as a solution for both temporary and permanent accommodation needs, as well as additional office and leisure spaces.
Built to your requirements, our containers can be transformed into a variety of outbuildings including home offices, luxury lodges, garden sheds and so much more.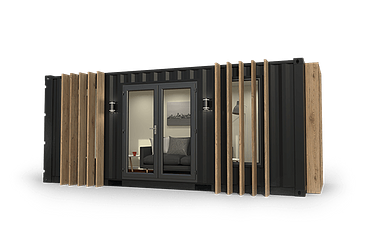 Whether you're looking to add some extra accommodation to your home or simply want to create a place where you can relax, a shipping container provides the perfect cost-effective solution if you're lacking in space. Safe, secure and cost effective, our bespoke garden room containers are ideal for creating a home office, cinema room, hobby area or even a home gym.
All of our shipping containers are built to suit your specific needs, and are available in a range of sizes, from 6ft to 45ft. So, no matter how much space you need, we can help. Worried about restricted access? We offer flat pack containers for simple installation, while our containers can also be stacked together for a larger design.
Want to learn more?
If you're looking for more information or details on our delivery options or are just looking for advice, give us a ring now on 0330 005 5111. You can also get in touch with us using our enquiry form below, simply fill it out and we'll get back to you as soon as possible.
Need Our Help?
Talk to us about your shipping container project today...