Home & Garden
Increasingly, shipping containers are being used as a solution for both temporary and permanent accommodation needs.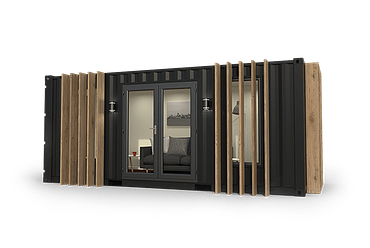 Your home, your way. Our containers are created to fit your needs, meaning you can create the perfect space.
A steel container can be designed, stacked and transformed, bespoke to your domestic needs; combined with others, they can create great homes.
They have largely been adopted as accommodation units because of their basic, boxy structure. A small dwelling can be created out of a single container, whilst stacking multiple units allows for larger designs for a home or a series of living spaces to interrelate. Many places around the world have container cities, where a housing complex-like concoction of units combine to create housing from repurposed storage and shipping units.
They also offer flexible usage in and around the house, from sheds to garages, to office space and beyond. They offer a safe, secure and durable space, at surprisingly reasonable prices. We also offer a flat pack option which allows us to access the trickiest and tightest of spaces.
Whatever your individual accommodation requirements, let our team help you today – just call 0330 005 511 or fill in our enquiry form to talk to our sales team about what's possible.
Need Our Help?
Talk to us about your shipping container project today...