Shipping Container Offices
We offer a wide range of site accommodation units including offices of different sizes to be used on sites where bricks and mortar space isn't available.
If you're looking to create an office space tailored to your needs, our shipping container offices offer a simple and convenient solution.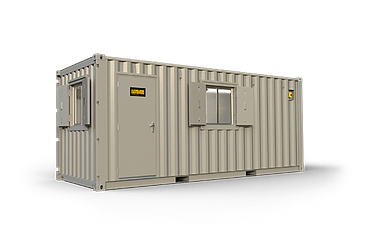 Whether you need a durable office on-site, or want to create a secluded home office in your garden, our portable shipping container offices provide the perfect opportunity to create a safe, secure and comfortable space.
Our shipping containers are available for sale or hire, while we can also offer bespoke extras such as electrics, windows, partition walls or ventilation to suit your specific needs. Want to create a larger workspace? Our shipping container offices can be joined together for multi-room operations.
Looking for more information?
We're always on hand to help, just contact a member of our sales team today on 0330 005 5111, get in touch via sales@clevelandcontainers.co.uk or fill in the form below. Alternatively, take a look through our full range of shipping containers now to find the right one for you.
Can We Help?
Talk to us about your shipping container project today...