Gear4music
Since its launch in 2003, Gear4music has grown into a leading supplier of musical instruments and production equipment with more than 1.3 million registered customers worldwide.
The online retailer is able to deliver to over 190 countries from its three distribution centres, including its head office in York, where we recently delivered a large quantity of our containers.
The team at Gear4music needed additional storage space, and after doing their research, decided to contact Cleveland Containers for help.
They are now in possession of 38 x 40ft high cube containers stacked two-high, creating a whopping container wall 19 feet high and 152 feet long.
From the road, you wouldn't be able to tell the containers were from our used stock as the backs of them were freshly painted green to blend in with the wooded area, in line with planning permission requirements.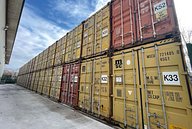 We were shopping around and concluded that Cleveland Containers not only had the best price but also the availability. We found the customer service to be very good and the on-site team did an excellent job of placing the containers.

Martin Stephenson, Operations Manager at Gear4music
The two side panels facing the customer carpark were also painted in a grey colour to match the showroom building.
All 38 containers were delivered within a 4-week window, providing Gear4music with more than 100,000ft³ of storage space in just under one month.
Need Our Help?
Talk to us about your shipping container project today...
You may also be interested in...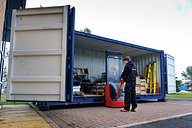 Elmtronics are the leading and largest independent suppliers of electric car charging services in the UK.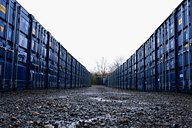 BlueBox Storage is an established self storage company with nine sites located across the North East.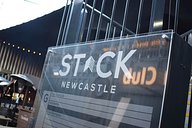 We are proud to have been the sole supplier of containers for the first shipping container village in the North East!