Middlesbrough Football Club Fan Zone
Cleveland Containers and Middlesbrough Football Club came together to create a fan zone space using shipping containers.
The two-tiered fan zone is made using a new 40ft high cube, a new 10ft high cube fitted with roller shutter doors and stairs leading to a platform (balcony) area.
The fan zone, which is sponsored by Heineken, will be open from 12:30pm for 3:00pm matches and 6:00pm for evening matches.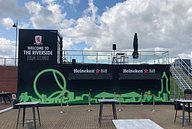 The additional area will offer a relaxing atmosphere where supporters can have a drink on the platform, play on the football tables and listen to live music.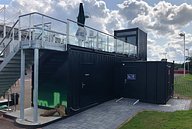 It was a pleasure to work with our local football club to create this fan zone, and we accepted the challenge with open arms. As you will be able to see if the images below, the containers work extremely well for this project.
Need Our Help?
Talk to us about your shipping container project today...
You may also be interested in...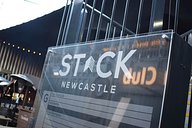 We are proud to have been the sole supplier of containers for the first shipping container village in the North East!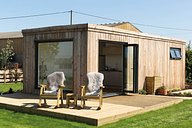 In 2018, we created a bespoke lodge from a 30ft x 12ft steel container. To hide the steel exterior, we cladded the container and transformed it into a beautiful nature-inspired lodge.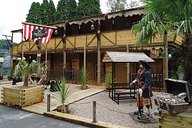 Gulliver's Kingdom is one of five theme parks from the Gulliver's Resorts family. Located in Matlock Bath, the theme park features a variety of rides and attractions with on-site accommodation available.