Or do you only have a certain amount of space to site your container and you're unsure of all the different sizes? Don't worry, we're going to explain everything…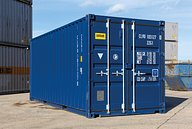 As mentioned in our The Journey of a Shipping Container blog, shipping containers are built to strict international standards. ISO standards set the criteria for each shipping container including the type and dimensions of the container. To answer the common question of 'How big is a shipping container?' we're going to explain the width, length and height of a container.
How wide is a shipping container?
The common width for shipping containers is 8ft or 2438mm. There are some exceptions to this - 6ft, 8ft and 9ft miniset shipping containers. Miniset containers are designed for the smaller sizes to be delivered within the larger sizes, (think like Russian dolls!).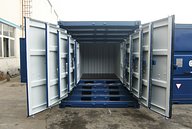 How long is a shipping container?
Shipping containers are sold by their length, therefore a 20ft shipping container is 20ft long. The common lengths for shipping containers are 20ft or 40ft, yet containers are available in a variety of sizes. At Cleveland Containers, we offer containers from 6ft to 45ft long.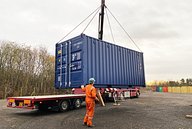 How tall is a shipping container?
Shipping container heights are categorised as 'standard' or 'high cube'. A standard height shipping container measures at 8ft 6in, this is the common height for containers. Whereas high cube containers stand at 9ft 6in tall.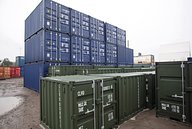 All shipping containers can be modified to the customer's request. At Cleveland Containers our conversions team have created custom builds from shipping containers, one such project was the bespoke lodge built from a 30ft long by 12ft wide container.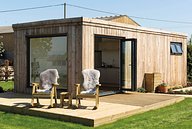 If you're interested in buying or hiring a container and want to discuss what size you need then our team is on hand to discuss any requirements you have. You can get a quote in just 30 seconds or call our head office on 0371 705 3962.
Need Our Help?
Talk to us about your shipping container project today...
You may also be interested in...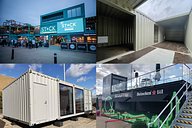 How do you join shipping containers together and what are the benefits of connecting them?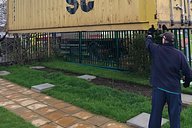 We explain what you need to put under a shipping container for a long lasting, even foundation.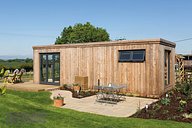 Regardless of whether you purchase a new or used container, cladding can be a great way to disguise that your shipping container was ever built to transport goods at sea, instead, completing transforming your container aesthetically!