Smoking Shelter
Keep your site clean and safe by ordering a designated smoking shelter created from a modified shipping container.
Featuring seating and a wall mounted cigarette bin as standard, our smoking shelters can also be installed with lighting and heating and be repainted to your choice of colour.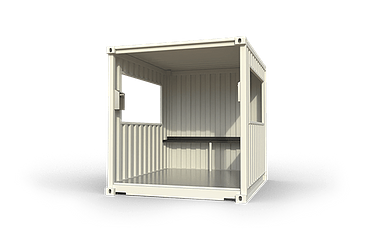 View Our Current Site Accommodation Stock
We have a wide variety of units available immediately...
Rustic design and bespoke features can make your smoking shelter a hip and interesting space. Tailored to meet your needs, we can add features such as personalised shapes (removal of walls), adding electrics, ventilation, shelving, or partition walls.
Own a bar and looking to expand? Our bespoke containers can be used for a wide range of uses, from storage space to additional bar space and buildings.

For further information on our great range of new and used containers for sale or hire along with details on delivery options and prices from each of our UK depots, please contact a member of our sales team today on 0330 005 5111, or fill in our enquiry form, we'll be in touch soon.
External Dimensions
Length
Width
Height
Net Weight
8ft
8ft 2ins
(2489mm)
6ft 7ins
(2000mm)
6ft 7ins
(2000mm)
840kg
10ft
9ft 10ins
(2990mm)
8ft
(2430mm)
8ft 6ins
(2590mm)
1300kg
Internal Dimensions
Length
Width
Height
Net Weight
8ft
7ft 8ins
(2330mm)
6ft 3ins
(1910mm)
6ft
(1820mm)
840kg
10ft
9ft 4ins
(2840mm)
7ft 8ins
(2350mm)
7ft 10ins
(2390mm)
1300kg