Modular Office
In 2016 we required new office space for our expanding workforce. After contemplating various ideas, we decided to build our offices from our own containers.
Our complex was built exclusively from six of our 40ft high cube shipping containers and took 2 months to build. The office contained two floors and stood at 80ft by 24ft using three containers for each floor.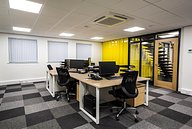 When looking for more office space it was a no brainer to use our own shipping containers. Our modifications team worked hard to design our bespoke office space, transforming six robust steel boxes into a modern open plan workspace.

Johnathan, Managing Director of Cleveland Container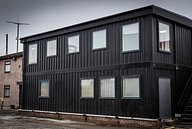 To create the unique workspace, our design team created detailed CAD and technical drawings. Using these, our skilled fabricators removed the doors and sides and insulated the containers, installed new doors, heating, air conditioning units and full glass panels. In the middle of the complex, we added a custom-built wooden staircase.
Need Our Help?
Talk to us about your shipping container project today...
You may also be interested in...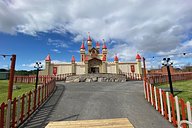 Gulliver's Theme Park Resorts have been providing magic to children since 1978, with a total of 4 theme parks located in Milton Keynes, Warrington, Matlock Bath, and Sheffield.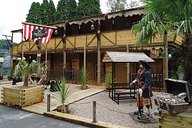 Gulliver's Kingdom is one of five theme parks from the Gulliver's Resorts family. Located in Matlock Bath, the theme park features a variety of rides and attractions with on-site accommodation available.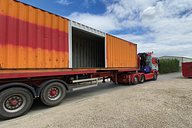 Back in February last year, we had a stand at Yarmouth Show where we met Tim, Managing Director at Elvington Plant Hire, who offer plant & tool hire, haulage and groundwork.