Preesall Park Storage
Established in 2020, Preesall Park Storage offer 20ft One Trip Containers for its customers in Preesall, Poulton-le-Fylde, Lancashire.
Word-of-mouth is an underrated yet important way of being considered by potential businesses. Following a recommendation by a friend who spoke highly of us, Max Harper-Allen decided to get in touch to discuss how we could help him set up Preesall Park Storage.
Max initially spoke with Cleveland's Founder and Managing Director Johnathan Bulmer who invited Max to visit an already established storage site and spent much time discussing the inner workings of the business. As a newcomer to the storage world, Max could not have been happier with the support and guidance he received, with Johnathan going above and beyond to ensure he had everything he needed to successfully set up his new self-storage venture.
Cleveland Containers have been with us from the start, we would highly recommend them to anybody wanting to launch or expand a storage business. The customer service has gone beyond initial purchase as we receive a lot of aftersales support. We feel able to seek advice and assistance when necessary, and we will certainly be continuing our great working relationship with them as we grow.

Max Harper-Allen, Director of Preesall Park Storage
The quality of our containers also played a huge factor in Preesall Park Storage's decision-making process. The 20ft One Trip Containers that we provide are of a higher specification than others on the market with our units all coming with 14 air vents, easy opening door handles, PU coated floors and grease nipples as standard. Preesall Park Storage can also continue ordering the same colour container (RAL 6007) so the site looks uniform.
The business has been relatively smooth sailing since the site opened in 2020, and they have not yet had any periods where there have been vacant containers. The team would love to extend their current site, subject to planning permission, but are also looking at options for an additional location at some point in the future, which could double the size of the business.
Need our help?
Talk to us about your container project today...
You may also be interested in...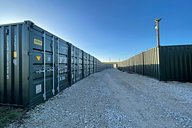 Family-owned business Scotts for Storage in Leyburn has been running for more than 20 years and offers our higher quality One Trip containers to their customers.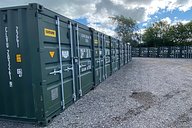 A1 Self Storage Ltd. are a well-known, trustworthy self-storage facility with 4 sites located in Darlington and Newton Aycliffe.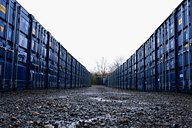 BlueBox Storage is an established self storage company with nine sites located across the North East.