STACK Seaburn
After the success and popularity of STACK Newcastle, the second venue is now open in Seaburn!
After the amazing success and popularity of STACK Newcastle, Neil Winch, proud owner of STACK and CEO of Danieli Holdings announced the new and exciting venue for a second STACK, this time in the seaside town of Seaburn, less than 3 miles outside of Sunderland City Centre.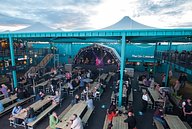 This development was announced to be a part of a new regeneration project in Seaburn, with the aim to introduce new business and increase employment in the area. After working hard to hit deadlines following delays due to COVID-19, STACK Seaburn officially opened its doors on 4th September 2020.
Continuing to work with Cleveland Containers was an easy decision, it allowed us to pick up where we left off at STACK Newcastle, and take all of the lessons learnt from our first shipping container development to make improvements for the Seaburn scheme. Cleveland Containers understood and embraced what we were looking to achieve and because we had worked together previously it meant the process of ordering, modification and delivery was seamless.

Neil Winch, CEO of Danieli Holdings
STACK Seaburn is to be built in two phases. Phase one, which is now complete, consists of multiple bars, a stage for live performances and various restaurants, featuring food from around the world, alongside Woofs 'n' Scruffs dog groomers and a gaming lounge. For the second phase, there will be a competitive games area, where visitors can play interactive games such as darts, mini golf, shuffleboard and karaoke, and it will even feature a bridal suite overlooking the coast, ready for STACK to be used as a cool and trendy wedding venue!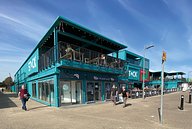 Once both phases are open, the site will be built from 70 new and used 40ft high cube shipping containers, built around the design created by Dunwoodie Architects. The containers were modified with doors, windows, serving hatches and were prepped for the various interior fixings to be fitted. When delivered to site, each container was painted and sealed ready for the businesses to move in.
Want to see STACK for yourself? Click here to book a table and make sure to tag us in any pictures from your visit!
If you're interested in a bespoke project, our design and modifications team are on hand to supply any technical drawings or mock-ups bringing your vision to life.
Need Our Help?
Talk to us about your shipping container project today...
You may also be interested in...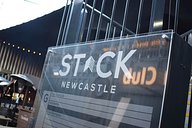 We are proud to have been the sole supplier of containers for the first shipping container village in the North East!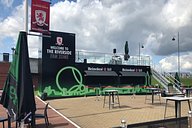 Cleveland Containers and Middlesbrough Football Club came together to create a fan zone space using shipping containers.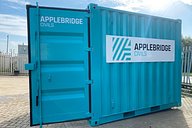 Applebridge Civils are part of the Applebridge family, a collection of businesses working within the construction industry.