STACK Seaburn
Following the tremendous success and widespread acclaim of STACK Newcastle, we were thrilled to work on the second STACK venue in Seaburn!
From the company behind many exciting leisure venues across the UK, Danieli Holdings, STACK Seaburn is an impressive shipping container village filled with street food, live entertainment, bars, and retail units.
Situated in the picturesque coastal town of Seaburn, just a stone's throw away from Sunderland City Centre, STACK Seaburn is an integral part of a regeneration project aimed at bringing new businesses and employment opportunities to the area. Despite facing delays caused by the COVID-19 pandemic, the dedicated team worked tirelessly to meet deadlines, and on September 4th, 2020, STACK Seaburn officially opened, welcoming more than 700,000 visitors in its first year.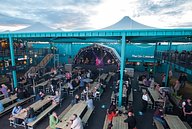 STACK Seaburn was expertly designed by Dunwoodie Architects and is composed of 70 new and used 40ft high cube shipping containers. The units were modified to feature doors, windows, and serving hatches, and prepped for interior fixtures to be installed. Each container was carefully painted and sealed before being delivered to the site, ensuring a seamless transition for businesses setting up shop at STACK Seaburn.
Continuing to work with Cleveland Containers was an easy decision, it allowed us to pick up where we left off at STACK Newcastle, and take all of the lessons learnt from our first shipping container development to make improvements for the Seaburn scheme. Cleveland Containers understood and embraced what we were looking to achieve and because we had worked together previously it meant the process of ordering, modification and delivery was seamless.

Neil Winch, CEO of Danieli Holdings
There are several bars and street food vendors on site serving a variety of options including tacos, burgers, pizzas, and fish and chips as well as Indian and Greek food. The venue features a large open space in the centre that contains plenty of seating for food, drink, and live music to be enjoyed by visitors. Not only this, STACK Seaburn is also home to a barber shop and beauty salon, demonstrating how versatile and convenient the venue is for small businesses.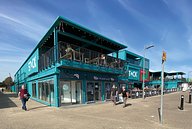 Our work on both the STACK sites showcases the incredible scale of what we can achieve with shipping container projects.
Need Our Help?
Talk to us about your shipping container project today...
You may also be interested in...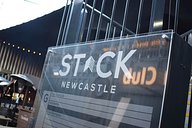 We are proud to have been the sole supplier of containers for the first shipping container village in the North East!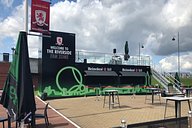 Cleveland Containers and Middlesbrough Football Club came together to create a fan zone space using shipping containers.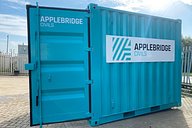 Applebridge Civils are part of the Applebridge family, a collection of businesses working within the construction industry.