Workshop Container
Following the introduction of social distancing measures, schools and academies have been struggling with space when implementing the Covid-19 safe measures set by the government.
Our conversions manager, Eddie, worked with the customer and suggested that a bespoke 20ft workshop container would be the best solution. The unit was fitted with ply-wood lining, insulation, electrics and a convection heater; a personnel door was also added for ease of access.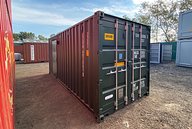 The modification that makes this container a unique workshop is the internal shelving and workbench which were built to the customer's specification and fitted their requirements exactly.
This would ensure that the students could work in a safe and secure environment, meaning all students have an equal opportunity to learn and interact with one another safely.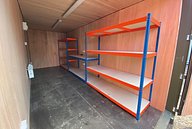 Due to government restrictions, we have experienced an increase in enquiries for alternate workspaces to ensure safe working environments. This workshop was a straightforward conversion for the team, with minimal modifications made to the structure of the 20ft container. These modifications are the perfect solution for workplaces in need of extra space quickly.

Eddie Rees, Conversions Manager at Cleveland Containers
20ft shipping containers are extremely versatile and can be used for a variety of modifications including external workshops, container offices and canteens. If you are looking for solutions to bring your staff together in a Covid safe workspace, our experienced team is on hand to deal with your enquiries.
Need Our Help?
Talk to us about your shipping container project today...
You may also be interested in...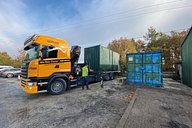 Beamish Park Golf Club, formed in 1906, consists of 10 volunteers and a team of 10 paid staff, who work together to ensure the smooth running of the establishment.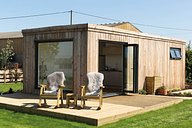 In 2018, we created a bespoke lodge from a 30ft x 12ft steel container. To hide the steel exterior, we cladded the container and transformed it into a beautiful nature-inspired lodge.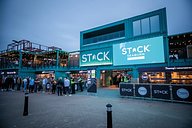 After the success and popularity of STACK Newcastle, the second venue is now open in Seaburn!