Our new head office has been constructed from six of our 40-foot high cube shipping containers.
The new offices are fully insulated with air conditioning and climate control throughout, with room for up to 20 members of staff.
Designed by our in-house team we have transformed the six containers into our own bespoke office.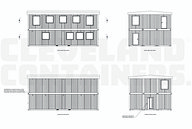 Managing Director Johnathan Bulmer, said: "Moving into larger, modern offices has been a goal of ours for some time now and after experiencing significant growth over the past year, we knew we were ready for the change.
"As a shipping container supplier with the ability to provide bespoke modifications, it made sense to construct our new offices out of shipping containers to showcase our skills.
"The move has also allowed us to establish a more collaborative working environment as the sales, marketing and administrative staff are now based in the same space. This means that all departments can co-operate more efficiently, which will enable us to offer an even better service to our clients."
A significant contributor to our move was one of our recent contract wins; we will be suppling a major national home building firm with shipping containers for its construction sites all over the country.
Marketing Manager Lewis Pennicott said: "Temporary office containers are a common feature of construction sites, but to build a permanent workspace out of containers is quite unique; there are only a few other complexes like this in the country.
"Structurally, creating the workspace was a simple process, but the interior design has been a much more interesting challenge. We were keen to create a modern, functional office while retaining interior features that remind you you're inside shipping containers."
Johnathan added: "I believe this change will have a positive impact on both our employees' work environment and will hopefully lead to the further growth of the business."
Need our help?
Talk to us about your container project today...
You may also be interested in...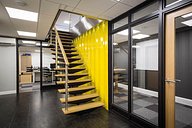 In 2016 we required new office space for our expanding workforce. After contemplating various ideas, we decided to build our offices from our own containers.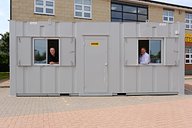 After achieving a record breaking year of sales, Cleveland Containers have invested in a new fleet of site accommodation units.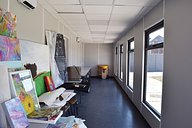 The popular Art and Design school based in Hartlepool contacted Cleveland Containers to design and create two class rooms made from a 40ft high cube and a 20ft high cube container.