This offers a range of benefits and provides endless possibilities for how they can be utilised, adapted, and modified by owners so that their full potential can be reached.
If you're unsure about which type of container you need or would like to learn more, we've put together a list of the top five reasons why side opening shipping containers are an excellent choice below.
Accessibility
The biggest selling-point of side-openers is that they allow for full access to the entire length of the container. Unlike a standard container where it can often be quite difficult to reach products at the far end, side-openers provide a clear view of all items meaning desired goods can be retrieved quickly and at short notice. This increases productivity as time isn't wasted trying to source items that were stored first.
Forklift and pallet trucks have a much easier time loading and offloading goods, and extra-large items that cannot fit through the container's normal doors are able to be stored due to the larger entry point.
There is also the potential to separate the container into different sections by adding partition walls, shelving, or simply sectioning off areas for specific uses. If the unit is being used as a pop-up shop or exhibition stand, the opening points provide plenty of space and light for people to enter, exit, and comfortably move around.
At Elmtronics we're expanding rapidly and needed extra storage for some of our groundworks material and equipment. Our team researched various storage options and as we found that a side opening container would be ideal. We can load and unload the container with our pallet truck easily.

Michael Wilkinson, Head of Operations at Elmtronics
Sizing Options
Side-openers come in a few choices of size and with different door configurations, so consider how much space you will need before deciding.
The smallest available size is 20ft long with a standard height of 8ft 6ins. This length also has a 'high cube' option which provides an extra foot in height (9ft 6ins), a smart choice if you need to store taller items or are expecting quite a few people to be in the container at any one time.
The next and final available length is 40ft which is only available as a high cube edition, making it 9ft 6ins high.
Both 20ft standard and high cube options are available with either 50/50 or 70/30 doors, however the 40ft high cube has 50/50 doors only.
High Quality Materials
When purchasing a side-opener from us, rest assured that it will be manufactured with strong, durable steel and protected from the elements with its wind and watertight construction. As standard, they are supplied with marine plywood floors, multiple air vents, and painted in either blue (RAL 5013) or green (RAL 6007) but they can be resprayed a different colour if requested.
A side opening container is currently available as new (one trip) which means it has no previous owner but has been utilised once to transport goods to its destined location. Because they are new, they come with a lockbox as standard which means padlocks can be used for extra safety and security, giving you peace of mind that your contents are protected.
Transportability
A great benefit of using a container as a business or storage solution is that the unit can be transported and relocated. This is true for all containers however the design of a side-opener serves as a more functional and accessible platform for mobile units such as exhibition stands or pop-up bars and shops. These types of conversions look fantastic and will certainly make your business stand out from the crowd.
If you're using the container to transport goods, it is much quicker and easier to load a side-opener because of the increased accessibility, as discussed above. Efficiency is important!
Our containers can be supplied as hire units meaning you don't have to commit to the full purchase price if you only need one as a temporary solution. We will simply drop it off and collect it when you're done. If you find however that the side-opener is a necessity for your business and you can't live without it, we do provide the option for you to buy the container.
Conversion Opportunities
As we briefly mentioned earlier, containers can be transformed into bespoke units such as shops, bars, restaurants, exhibition stands, workshops and so much more. A container essentially provides the bare bones of a potential structure for any use or business.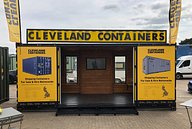 Think about what you need to add to your container to make your dream a reality. Would you like to add windows or roller shutters? Do you need provisions for electricity and plumbing? What about painting the exterior of the container so that it matches your brand or style?
These types of additions can all be achieved by our modifications team who will work with you and your requirements to create the desired final product. Your side-opener can be elevated to the next level just by including a few extra features.
As you can see, the benefits of side opening containers are plentiful and can really improve the efficiency of your business or storage system.
Whether you're using one as a working area or to store cargo, the increased accessibility makes for a more versatile, open, and convenient space, improving productivity and increasing your business' potential.
If you're now convinced that a side-opener is the ideal container for you, enquire now for a quote or to begin your bespoke build journey.
Need Our Help?
Talk to us about your shipping container project today...
You may also be interested in...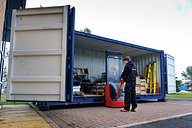 Elmtronics are the leading and largest independent suppliers of electric car charging services in the UK.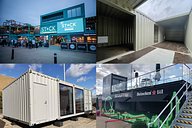 How do you join shipping containers together and what are the benefits of connecting them?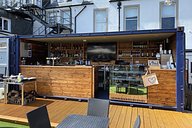 "The best business decision I've ever made". Sales are set to soar for the North Berwick B&B following the launch of its side opening container bar.