No.12 Hotel & Bistro
"The best business decision I've ever made". Sales are set to soar for the North Berwick B&B following the launch of its side opening container bar.
When the Covid-19 pandemic struck in 2020, many bars and restaurants across the UK suffered financially because of lockdown closures and dining restrictions. The introduction of outdoor dining only in April 2021 meant that these businesses needed to think quickly as to how they could reopen within these new legal guidelines.
Ensuring his business could survive through these unsettling times, Sean McCashey knew early on that it was vital he invested in an outdoor eating and drinking area so that his customers could be welcomed back safely to No.12 Hotel & Bistro, and service could resume as quickly as possible.
Sean transformed his now frequently empty hotel car park into a simple beer garden so that he could continue to trade, and soon realised that it would be beneficial to keep this as a permanent feature due to its popularity and the increased seating capacity. Following a recommendation from a catering supplier, Sean contacted SIPS Events, a Scottish bar and cocktail delivery company, to help elevate the area even more by adding a shipping container bar.
A previous customer of ours, SIPS Events returned to us to purchase a 20-foot side opening container and a 10-foot standard container - the latter of the two to be used as an additional storage area.
They then transformed the 20-foot unit into a bar by installing burnt wood walls, 'kitchen-style' flooring, electrical sockets, and a servery.
We purchased a side opening container from Cleveland Containers four years ago which we then modified into a bar to take to festivals. We find that side-openers are better for building a bar inside because of the instant access to the entire length, instead of getting a standard container and cutting a hole in it!

Mikey Donovan, Owner of SIPS Events
Having a self-contained bar and cellar in the beer garden means that Sean doesn't need to sacrifice any of his indoor space for storage as these units can hold large amounts of beer kegs and bottled drinks. On reopening day, the 10-foot storage container alone held more than 40 beer kegs, as well as refrigerators and bottles.
We have only traded for a couple of days with these containers, and I can confidently say it is one of the best business decisions I have possibly made. The income that the outside bar will generate over the next few months will be the same as twelve months of indoor dining for us.

Sean McCashey, Owner of No.12 Hotel & Bistro
Need Our Help?
Talk to us about your shipping container project today...
You may also be interested in...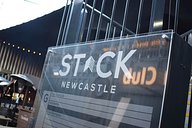 We are proud to have been the sole supplier of containers for the first shipping container village in the North East!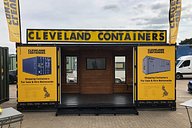 Side opening shipping containers are an extremely useful option for businesses due to the increased access along the entire length, improving efficiency and conversion potential.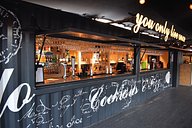 Recently, converted containers are becoming increasingly popular in the commercial and drinking culture.