For the purpose of this blog we will look at 20ft shipping containers as an example. There are a few obvious differences between new and used containers and it really depends what you intend to use the shipping container for.
New Container
Our new shipping containers are all one trip, which means the container has been used for one journey from being manufactured. To keep the transportation costs down this container will be used to transport goods. Therefore, the container may have minor scrapes and the odd transport mark, due to being on a ship for 6 weeks and handled during loading and unloading.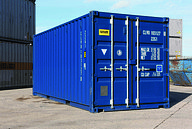 Used Containers
Our used shipping containers are typically up to 10-15 years old and will have spent their lifetime being shipped internationally. These containers are still structurally sound and weatherproof. However due to their age and previous use these containers will show signs of wear and tear. Please note that the containers may differ in colour, so if a specific colour is required, we would recommend a respray or to purchase a new shipping container.

A used shipping container should last 20+ years from date of purchase with little maintenance, so will last considerably regardless of its age.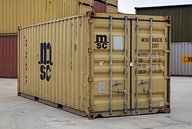 Condition
The first obvious difference is the condition of the container. Due to their age, a used container i may have marks, repairs and scuffs on them. The paint on used containers may also have faded over time as well as some surface rust.
Comparatively, a new one trip container will have minor scuffs and minimal damage. As mentioned above, a new one trip container will travel from the manufacture so may have transportation marks.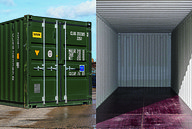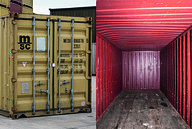 Colour
Usually new containers are one solid colour with no shipping branding on them, they also feature a lockbox welded to the door. Our new standard 20ft shipping containers are supplied in blue (RAL5013 or RAL5010) or green (RAL6007).
With used containers colour cannot be guaranteed, and the container will feature shipping company branding across them. As mentioned previously used shipping containers may also feature repair marks.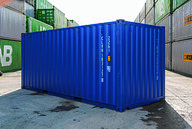 Extras
New containers features extras including additional air vents and lockboxes. Our 20ft standard shipping containers are supplied with 14 air vents and a lockbox.
Used shipping containers aren't usually supplied with lockboxes without an additional charge.
Lockboxes are a metal shroud welded to the cargo doors protecting the padlock, preventing forced entry through cutting the padlock.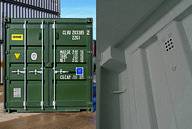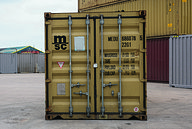 We are always happy to provide our professional opinion, so let us help you find your perfect container. If you have any questions or wat to chat with our team, contact us now, or find out more visit our containers page.
Need Our Help?
Talk to us about your shipping container project today...
You may also be interested in...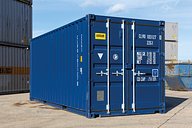 Have you decided to buy or hire a shipping container but you don't know which size you need? Don't worry, we're going to explain everything…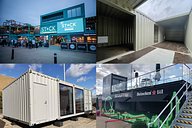 How do you join shipping containers together and what are the benefits of connecting them?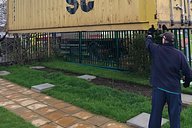 We explain what you need to put under a shipping container for a long lasting, even foundation.