The Northern School of Art was moving to a new building and staff were considering removing the area of their college dedicated to ceramics and pottery work. There was then quite a bit of interest and demand, particularly from the fine art students, to bring back ceramics into the curriculum.
The container classrooms, which Cleveland Containers created, now allow the students access to a kiln and a professional workspace. The containers are fully fitted with electrics, LED lighting, a sink, workshop and a false ceiling. The room is bright due to the natural light coming through the 5 double glazed windows which have also been fitted.
We looked at various solutions internally in the building but nothing made a great deal of sense due to the nature of ceramics and even just finding enough space. We had seen various projects around the world e.g. New York, Gateshead, Teesside Park and other where recycled shipping containers were being used for shops, offices, bars, restaurants, and a whole other range of things which even included a micro-brewery. Thinking outside of the box (no pun intended) and using shipping containers gave us a solution that was flexible in scale, cheaper than building new studio space, and something that could become a bit of quirky feature at the School.

Stuart Slorach, Vice Principal of Resources at the Northern School of Art
We recently visited The Northern School of Art to see the classrooms in place and to photograph the finished project, see images in gallery above.
Need Our Help?
Talk to us about your shipping container project today...
You may also be interested in...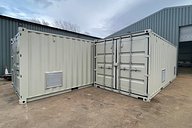 Cremator and incinerator suppliers Facultatieve Technologies came to us as they required a secure storage solution to house their cremation ovens for their customers in Europe.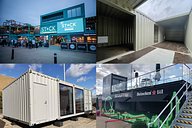 How do you join shipping containers together and what are the benefits of connecting them?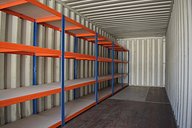 A school in Middlesbrough needed a modified shipping container with substantial shelving to use as an extra storage area.