This cosmetic addition also increases the longevity of the container as it provides an extra layer of protection against the weather, reducing the likelihood of corrosion.
Here at Cleveland Containers, we are highly experienced in this area of modification, having worked on many projects for our customers in the past.
What paint services do Cleveland Containers offer?
At our workshop, we can execute various paint requests including full, partial, and multi-colour repaints, as well as applying decals.
Generally, we will use a single coat of self-priming, self-finishing, solvent-based paint designed for use on metal. One coat is usually sufficient, but a second coat is often required for lighter colours such as white and yellow to ensure complete coverage across the surface of the container.
We can apply any paint from the RAL Classic collection in semi-gloss or solid colour. If multiple colours, finishes, or certain paint specifications are requested, we can evaluate these enquiries individually and discuss options with our customers to provide an accurate quote.
One service we do provide - which can be extremely beneficial for self-storers - is painting just the front of the box. As containers on self-store sites tend to be placed tightly in rows, the sides can't be seen, so it would be unnecessary to pay for them to be fully painted. This quick and simple method makes the boxes look uniform at just a fraction of the price.
As another example, online retailer Gear4music previously purchased 38 x 40ft used containers from us to stack 2-high at their York head office and requested that the backs of them were painted green. This was because the containers needed to blend into the wooded area next to the road as part of planning permission requirements.
How is paint applied to the container?
Before the container can be painted the surface needs to be sufficiently cleaned and prepared. Firstly, a wire wheel is used to remove any loose paint flakes and significant areas of corrosion, then the previous paint is sanded down to create a better foundation for the new layer.
If necessary, the handles are taped over to keep them protected, and then the chosen paint colour is sprayed onto most of the unit, with final touch-ups being applied with rollers or brushes. By and large, it takes around 10 litres of paint to completely cover a 10-foot container, 20 litres to cover a 20-foot, and so on.
How are logos applied to the container?
If company logos or designs have been requested to go on the container, these will almost always be decals, rather than paint. Due to the corrugations on the panels, it would be extremely difficult to paint logos on as it requires more complex stencilling and additional drying time. Instead, we use vinyl stickers to transfer the design.
This option is not only affordable, but it also lasts longer than paint and is easier to remove or edit. Vinyl stickers are more durable and fade-resistant, which means they're better protected from harsh weather conditions, ensuring that business logos remain of a high quality. Even large logos that take up the entire side of a unit, will likely be a vinyl sticker.
What are the benefits of painting a shipping container?
Used shipping containers can show significant signs of wear following years of transportation and handling; a simple repaint can rejuvenate the unit's appearance, giving it a new lease of life. It is worth mentioning however that any dents present on the container are likely to still be visible, so if this is a concern, please speak to a member of our sales team who will be best placed to advise.
It's not only second-hand containers that can benefit from a paint job. If customers desire a new container because of its generally dent-free condition and extra features, these can also be repainted to incorporate brand colours or better suit the area where it will be located. Often, shipping containers are converted into bespoke units such as bars or workshops, so painting them to suit their new purpose or to match the style of the company can look very impressive.
As mentioned previously the new coat of paint provides an extra layer of protection against corrosion, increasing the lifespan of the container.
If you would like to find out more about the painting services we offer, contact us today for more information.
Need our help?
Talk to us about your container project today...
You may also be interested in...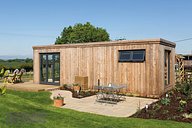 Regardless of whether you purchase a new or used container, cladding can be a great way to disguise that your shipping container was ever built to transport goods at sea, instead, completing transforming your container aesthetically!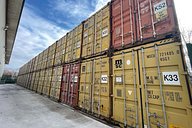 Since its launch in 2003, Gear4music has grown into a leading supplier of musical instruments and production equipment with more than 1.3 million registered customers worldwide.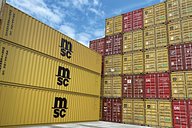 In this blog, we are going to discuss how high shipping containers can be stacked on land, and what measures are taken to ensure that they are stacked safely.