Thousands of farmers looking to maximise the money-making potential of their land will flock to Birmingham's NEC on 10th & 11th November 2021.
The Farm Business Innovation Show is Europe's biggest event dedicated to providing farmers, landowners, estate owners and rural entrepreneurs with the inspiration, advice, and resources they need to diversify their rural business.
Now in its eighth year, the event will see 1,000 exhibitors fill the hall, 500 seminars covering a multitude of topics, and expert-led panel debates – combining to create an unmissable event, with thousands of ideas for farmers to introduce new income streams through their land and rural business.
The venture into rural diversification in the rural sector is a vital way to keep traditional methods of income viable in an unstable economic climate. By turning a portion of land towards an alternative stream of income, the traditional business can continue running with the support of additional revenue. This can be anything from turning one field towards renewable energy, to letting out buildings as offices or accommodation, to opening a glamping or camping site.
The aim of the Farm Business Innovation Show is to offer advice and resources for every step of the diversification process, all under one roof. Inspiration can be found around every corner of the venue, delivered through case studies from industry experts who have gone before, or discovered by wandering through the aisles and seeing the latest innovative technologies and products that are changing the landscape of rural business.
Your free ticket to the Farm Business Innovation Show will also give you full access to the related shows running alongside: Country House Business Innovation, Holiday Park & Resort Innovation, Family Attraction Expo, Leisure, Food & Bev Expo.
Running on the 10th & 11th November 2021 at the NEC Birmingham, tickets to attend the show are free, visitors just need to register via the website HERE.
We will be located at stand FB1600 with a selection of our products on display, and our expert sales team will be on hand to answer all your questions.
Need our help?
Talk to us about your container project today...
You may also be interested in...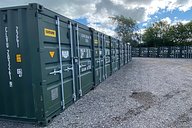 A1 Self Storage Ltd. are a well-known, trustworthy self-storage facility with 4 sites located in Darlington and Newton Aycliffe.
We are overjoyed to be announced as finalists in the Teesside Company of the Year category of the North East Business Awards.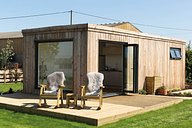 In 2018, we created a bespoke lodge from a 30ft x 12ft steel container. To hide the steel exterior, we cladded the container and transformed it into a beautiful nature-inspired lodge.