Offshore Energy Limited (OEL)
We created two bespoke units from 20ft containers for the energy company to use offshore as an office and workshop.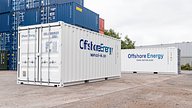 Offshore Energy Limited (OEL) provide project management and engineering solutions, and related training service, to the Oil and Gas, Subsea Telecommunications and Renewable Energy industries on a global scale.
OEL wanted to take a modular approach to support its activities utilising ISO and DNV shipping containers, which have the benefit of being easily transported worldwide by road, rail, and sea.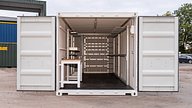 For this project, we were tasked with modifying two 20ft One Trip Containers for different purposes. One container was transformed into a store and workshop for rigging equipment, and the second became a modern office with air conditioning.
Both containers include electrics and strip lighting as well as full Grafotherm anti-condensation treatment on all internal walls and ceilings. The flooring was created with easy to install Coba tough lock tiles; made from resilient PVC, this flooring option is ideal for industrial use.
For the workshop, we installed a workbench, heavy duty hooks and a heater, creating a highly functional and comfortable working space.
We were determined to utilise a British company for our container supply and fitout work. Cleveland Containers offered the capability for conversions and were ideally situated in the North of England, so it was a perfect match. The modifications team were helpful and open to discuss and utilise our layout ideas and equipment.

Richard Turnbull, Director at Offshore Energy Limited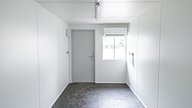 The office walls were lined with 15mm melamine, supplied by the customer, making them stronger and extra durable. Behind the cargo doors, a partitional wall with a personnel door and sliding window was installed, providing a traditional office entrance. This unit was fitted with an air conditioning system and a heater.
The exteriors of both containers were painted light grey (RAL 9003) and fitted with custom decals in line with the company's branding. They both hold CSC (Convention for Safe Containers) certifications, demonstrating that they are built safely, pass all testing and inspections, and are suitable for transportation at sea.
Once delivered to OEL, they made their own additions, including the installation of a first aid kit and eye wash station, fire extinguishers, and storage cabinets.
Interested in a Modified Container?
Talk to us about your container project today...
You may also be interested in...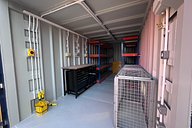 We modified a 10ft and 20ft Shipping Container to become COSHH stores for the electrical engineering company.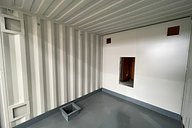 We were tasked by a renewable energy firm to modify a 20ft standard height new (one trip) container so that it could be used at sea to safely house a generator.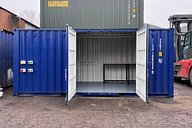 We provided The Channel Tunnel Group with a 20ft workshop modified to suit their exact requirements.