Sunbelt Rentals (Confined Space Training Unit)
Our in-house modifications team transformed a 40ft container into a 30ft Confined Space Training Unit with a ladder and roof deck.
Confined space containers are used as training facilities that can simulate hazardous or challenging working conditions. Staff can practise working in a safe and controlled environment, learning how to deal with the challenges associated with restricted space and light.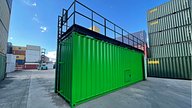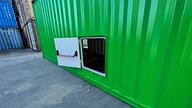 Two 800 x 800mm escape hatches with ISEO fire escape crash bars were installed on the long sides of the container, and a ladder was placed on the short side.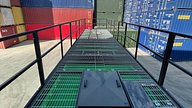 The roof deck features fork pockets and corner castings to allow for flexible movement and the ability to be securely attached to the container with twistlocks.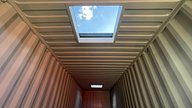 Fall arrest davit arm mounts are integrated into the galvanised steel grating floor of the deck, as well as two removable hatches that provide access to the inside of the container through the roof.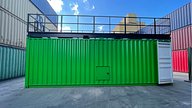 To allow for all sections to be transported in various stages of assembly, the platform, ladder, and handrails are removable.
The container was repainted in RAL 6037 (Pure Green), the brand colours of Sunbelt Rentals.
Need our help?
Talk to us about your container project today...
You may also be interested in...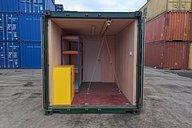 We created a 50:50 Workshop/Store from a 20ft New Tunnel Container to be used on a ship that services wind farms.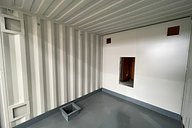 We were tasked by a renewable energy firm to modify a 20ft standard height new (one trip) container so that it could be used at sea to safely house a generator.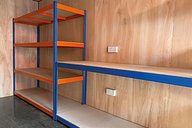 Recently, we were approached by an academy trust based in Hampshire, who needed extra workshop space in which to hold their design & technology lessons.