20ft Side Opening Hospitality Unit
We recently converted a new (one trip) 20ft side opening container into a bespoke hospitality unit.
The container features 70:30 split doors that fully exposes the front of the unit, allowing easy access to serve customers and accommodate safe and secure locking when closed.
The serving area spanned the full width of the container, allowing numerous staff to work simultaneously whilst ensuring the kitchen area was spacious and airy.
This unit was created to represent a rustic, industrial style, and was internally cladded with stained vintage wood, a solid timber worktop, spotlights and pendant lights.
The easy clean stainless steel work surfaces allow for quick and hassle free cleaning, keeping the container tidy and hygienic when serving customers.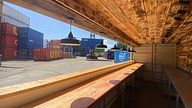 The flooring consisted of a heavy duty nonslip vinyl, and a personnel door was added to create an alternative entrance from the standard shipping container doors, allowing simple and safe entry in and out of the serving space.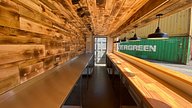 An advantage of using shipping containers to create hospitality units is how well they can be transformed into modern, unique, and functional spaces. This bar was completely bespoke and functional, whilst also adding individuality and flare through its design.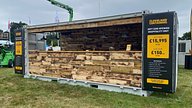 Due to this hospitality unit being crafted from a shipping container, it is able to be transferred and relocated easily, allowing it to attend weddings, festivals, a 'pop-up' shop and much more.
Need our help?
Talk to us about your container project today...
You may also be interested in...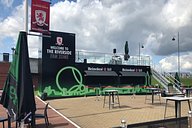 Cleveland Containers and Middlesbrough Football Club came together to create a fan zone space using shipping containers.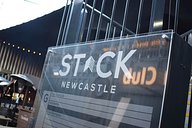 We are proud to have been the sole supplier of containers for the first shipping container village in the North East!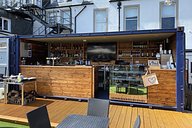 "The best business decision I've ever made". Sales are set to soar for the North Berwick B&B following the launch of its side opening container bar.