30ft Cut-down with Racking
A school in Middlesbrough needed a modified shipping container with substantial shelving to use as an extra storage area.
The unit was created by cutting a used 40ft container down to 30ft so that it could fit within the customer's available space. This is a service we provide at an extra cost if you find that our standard 20ft is too small or our standard 40ft is too big for your location. The container was welded back together so seamlessly that you would never be able to tell that it was once a 40ft unit.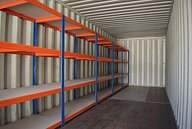 The school needed this additional space to store documents so requested for shelving to be installed to better organise the contents. We fitted six bays of racking in total along one side of the container which provided ample storage space but also left plenty of room for people to move around comfortably.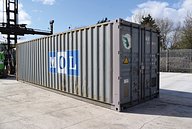 We installed medium duty racking which can store up to 400kg of cargo per shelf. The shelves are adjustable and ideal for bulk storage as it utilises all the available space.
The difference in size between our standard 20ft and 40ft containers is quite significant and these might not be ideal lengths for our customer's projects. We can cut containers down to certain sizes if requested so that our customers can have a container that suits their needs and requirements.

Eddie Rees, Conversions Manager
Need Our Help?
Talk to us about your shipping container project today...
You may also be interested in...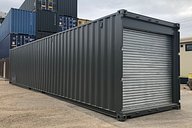 People buy shipping containers for various reasons, ranging from secure storage, to creating bars and restaurants. Occasionally, it is recommended to carry out modifications to a standard container, and this bespoke project was no exception!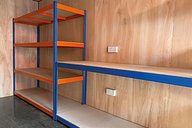 Recently, we were approached by an academy trust based in Hampshire, who needed extra workshop space in which to hold their design & technology lessons.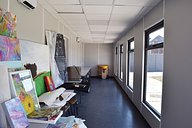 The popular Art and Design school based in Hartlepool contacted Cleveland Containers to design and create two class rooms made from a 40ft high cube and a 20ft high cube container.