Facultatieve Technologies
Cremator and incinerator suppliers Facultatieve Technologies came to us as they required a secure storage solution to house their cremation ovens for their customers in Europe.
Facultatieve Technologies are suppliers of cremators and incinerators for both Europe and America. They first contacted us to find a solution to store cremation ovens safely and securely before they distribute them across the globe.
Due to the complexity and size of the cremators and incinerators, it was essential that the storage containers were modified to hit all the requirements of housing this specialist equipment.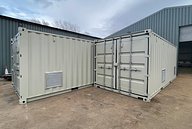 A single 40ft new (one-trip) container was modified down to become 30ft, and another new (one-trip) 20ft container was also used in the design to create their desired storage space.
Facultative Technologies came to us to find a solution to house their cremation ovens in Europe. They needed a conversion that was within their budget and could be turned around quickly as they had a tight deadline for the containers.

Eddie Rees, Conversions Manager at Cleveland Containers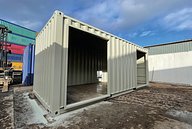 The two containers were then linked together through the adjoining doorways that had been created throughout the modification process, sealed and joined.
The containers were then cut out and box framed, and the join was sealed by placing a sleeve over the join.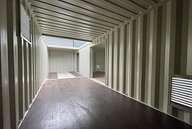 To finish, the boxes were resprayed internally and externally in the colour RAL 7032 pebble grey to freshen the appearance of the containers.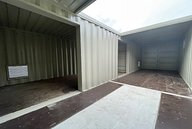 The final design of the container is exceptionally advantageous as it enables the container to be relocated as the join is easily removable, yet still entirely safe and secure.
Need Our Help?
Talk to us about your shipping container project today...
You may also like..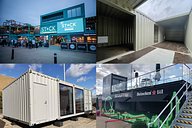 How do you join shipping containers together and what are the benefits of connecting them?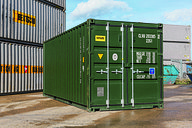 With the frequent question being asked 'what is the difference between new and used shipping containers?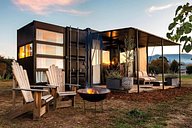 Shipping container houses are becoming increasingly more popular with the boom of tiny homes and the ability to create a diverse living space, so, how much does it cost to create one?