Shipping containers also make great ready-made foundations to construct a house, office, bar, or even a holiday home! Due to containers' durable and sturdy structure, they are the perfect elements to create a sustainable home that can be completely bespoke to your project.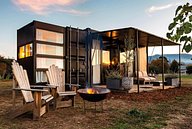 What is a shipping container house?
A shipping container house is exactly what it says it is, a home made out of shipping containers!
These dwellings are often made by numerous sizes of shipping containers joined together, however the structural outcome of some shipping container homes can be visually diverse, allowing the architect to be as creative as they like!
There are many benefits to building a container home, for example:
Affordable - Building a container home can be extremely cost effective, especially if you are building a home on a budget!
Design - The design of your container home can be completely bespoke to you, and can be as simple or extravagant as you like!
Time effective - Container homes can be built in a short amount of time due to the structure of your home already built!
Eco-friendly - Due to the mass surplus of used shipping containers, your new shipping container home will be as eco-friendly and sustainable as you like!
Now you know what a shipping container home is and the benefits they bring, let's delve into the costs associated with building your dream home.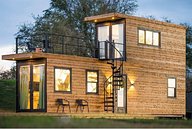 What type of containers will I need?
For your container home project, you will need to decide on how many containers you will require and what sizes you will need in order to fulfill your build.
For example, a shipping container can come in various different sizes such as 20ft, 40ft, and even 45ft, or if you are adjoining various containers, you may need a range of sizes and shapes of containers to make up your home. You can check out exactly what sizes shipping containers are through our how big is a shipping container blog.
When deciding on your container home specs, you will also need to consider whether you require new or used containers. If you're building your container home on a budget, used containers can be considerably cheaper than new one trip containers.
On average, a 20ft new container can cost around £1,000 more than it's used counterpart. Similarly, new 40ft containers can cost on average around £2,000 more than a used container.
A new 'one-trip' container will have a few minor bumps and scratches due to the transportation and loading process. However, used containers may have greater structural damage, housed numerous chemicals, display signs of rust, and even doors that may not be as wind and water tight as they once were.
The past usage of used containers may result in them being unsuitable for creating a container home, for example, if the container was used to store hazardous chemicals this may result in the container being unfit for living.
For more information on the difference between new and used shipping containers, click here.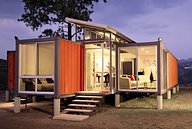 Where shall I put my shipping container home?
Once you have chosen how many shipping containers you require, you will need to ensure that the location you are going to build your container home on is suitable for both the delivery of the container and the entrance and exit of the lorry.
If your container home is going to be placed somewhere that isn't on solid ground, such as a field, you may need to hire a tractor with a forklift in order to move the containers into the desired location.
Renting vehicles to move containers can cost around £1,000 a day if your site isn't accessible by a delivery lorry, therefore if you are building your home on a budget, you may want to avoid this additional charge.
It is also highly recommended for container homes to be placed on a hard surface, such as concrete. Whilst this is not essential, if you intend on keeping your dwelling in the same place for a long time, it may be worth investing in hardwearing and durable groundworks, such as a solid concrete foundation.
For more information on the best way to prepare your ground, check out our blog on how to prepare foundations for a shipping container.
Will I need planning permission? What are the legalities surrounding container homes?
In the UK, a container home is classed as a permanent structure, therefore you will need to include the cost of planning permission in your budget. Your planning permission application should take no longer than 8 weeks, however more complicated projects may take longer.
The cost of full planning permission in the UK is £462 (as of April 2021), this cost covers the application for a new house build or home conversion. You can check your local planning authority to find out the guidelines within your area.
For more information read our full blog on gaining planning permission for your container home.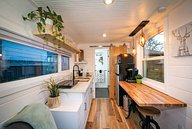 How much will windows and doors cost?
Windows and doors will be a variable cost within your container home budget, depending on how many you require for your build.
For example, costs that will incur when inputting windows and doors will include installation and material costs, therefore, this should be reviewed and taken into consideration when planning your budget.
If you are designing your container home, you will need to consider the cost per unit with your architect or builder, in order to ensure that the cost of the windows and doors are within your budget as this could increase the cost of your build.
How much will interior framing cost?
The interior framing of your container home can be very variable in costs, dependent on how you want your container home structured internally.
When estimating how much an interior wall will cost, there are a number of variables that need to be considered, for example:
Wall size and thickness, do you know exactly what size you want your internal walls to be? Also, how thick do you require the walls to be?
What type of materials are you going to use? Interior walls usually consist of a combination of wood, plaster, drywall and insulation etc. the cost of purchasing all the required materials will need to be considered.
Electric works: most electrics that power lights and outlets will need to go behind walls, therefore the cost of the electrics needs to be accounted for. Depending on the complexity of the electric outlets, an electrician may need to be used, which can ultimately heighten the overall costs.
Again, it is very difficult to provide a ballpark figure for how much this may cost, however, your architect or builder will be able to provide you with a rough estimate on how much the interior framing will cost depending on how many rooms you require.
What insulation will I need for my container home, and much does it cost?
Insulating your shipping container is important in order to prevent condensation and maintain your desired temperature when you are converting a shipping container into a home, office, or any other type of conversion!
Shipping containers are made from 'Corten Steel' or known as 'Weathering Steel'; these steel compounds enable containers to be weatherproof and sturdy for spending many months out at sea.
Your shipping container home will need to be insulated properly as steel is a conductor of heat, meaning that your container home may get really hot, or really cold if you do not use insulation.
So, what insulation is the best and how much will it cost?
For your container home, you will need to add insulation such as Rockwool, Kingspan, Spray-foam and cover with ply-lining. However, the type of insulation you will need will depend on the weather conditions the container will be located in as this will impact the type of insulation and how much insulation you will require.
Overall, there is no definitive price that we can provide as the cost of the insulation will vary rapidly depending on what type of weather conditions you live in, and how big your container home will be and what type of insulation you will need.
What other costs will I need to consider?
Now we have covered the basic costs to get your container home started, there are more that we haven't mentioned that still need to be considered.
Plumbing costs
Your plumbing costs will vary depending on how many water points your home will need, such as sinks, toilets and facilities such as baths and/or showers.
Gas
Have you considered how you will get gas supply for your kitchen in order to cook or heat your home? If so, you will need to factor in the costs for your gas getting delivered frequently, or you will need to factor in the price of getting connected to a channel pipe.
Furniture
Furnishing your container home will take up a considerable amount of your budget, dependent on how much furniture you need to furnish your home with. For example, a 4 bedroom container home will need considerably a lot more than a 1 bedroom home.
Kitchen cupboards, bathrooms, bedrooms and living furniture all come under the cost of furnishing your container home, so make sure you consider the costs to transform your house to your dream container home!
I want to get started!
Now you know how the fundamentals of costs for your container home, your next step should be to get in touch with our modification teams! As long as you have a drawing of what size and layout you want your home to be, our modifications team will be able to provide you with an estimated cost before you see an architect.
Get in touch today to start planning your dream container home!
sales@clevelandcontainers.co.uk
Need Our Help?
Talk to us about your shipping container project today...
You may also be interested in...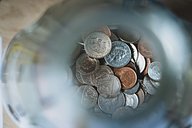 Are you saving for a house? Take a look at our top tips on how to save, and some cheaper alternatives.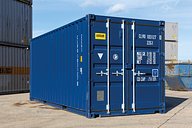 Have you decided to buy or hire a shipping container but you don't know which size you need? Don't worry, we're going to explain everything…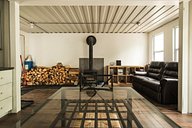 For many, a shipping container home may not sound very appealing but for us a container home is a very positive thing, it can be more cost-effective, built quickly and can also be eco-friendly.