iBOXED Self Storage
Co-founders Ian and Noor utilised our BOX+ service to diversify and begin their new venture into self storage.
Business partners Noor Rashid and Ian Harriman have a significant background developing properties for commercial, residential, and industrial purposes in and around Teesside.
After purchasing land in Ingleby Barwick to use as a development site, it quickly became apparent that this would no longer be viable given the price increases of materials and labour following the Covid-19 pandemic.
Following a conversation Ian had with his friend Johnathan Bulmer, the founder of Cleveland Containers, his eyes were opened to the booming industry of self storage, and the increased requirement for self storage sites all over the UK. With this prime location already in their possession, next to a growing and densely populated area, they could see the immediate opportunity and potential of diversifying into the storage market and opening a storage site on their land.
Ian and Noor began ordering shipping containers from us, utilising the new service we have launched for self storage operators, BOX+, to get their site up and running and their business fully operational.
The BOX+ service from Cleveland Containers has been extremely helpful and supported us in our self storage journey. It has given us access to the key members of the team to assist us with our site design, our marketing, and getting customers in our boxes. The team is always on hand to provide support whatever that might be.

Noor Rashid, Co-founder of iBOXED Self Storage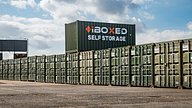 BOX+ supports current self storage operators and landowners who wish to diversify into the industry by providing them with everything they need to set up and run a simple, remotely operated, and profitable business.
By connecting iBOXED with leading industry suppliers who provide offsite management tools such as an all-in-one website and customer database, as well as bespoke security and access packages, Noor and Ian are equipped with the tools they need to run their site remotely.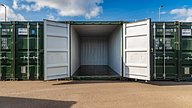 We also supported iBOXED with its marketing and advertising efforts, greatly improving its online and offline presence. The joint efforts of iBOXED and the team at Cleveland Containers, saw the occupancy rate increase by 420% in just three months.
The successful launch of iBOXED demonstrates the power of BOX+ and how easy it can be to launch or expand a self storage business when you have the backing of the Cleveland team.
Have you always wanted to get into the self storage business but don't know where to start? Do you have spare land that you don't know what to do with? Have you got an existing self storage business and don't know how to scale-up?
Well, you've come to the right place. We've been in the box business for many years and you could say we're the experts. We've sold thousands of shipping containers, many of which have gone into self storage yards across the UK and we're watched them grow into thriving businesses.
With all this expertise, we're put together a unique package called BOX+, which will connect you to hand-picked industry specific suppliers.
Our network of suppliers can provide everything from finance, security, marketing, and exclusive discounted prices, and of course, we'll even supply the containers at a preferential rate.
BOX+ is a one-stop solution that provides you with everything you need to set up and run a simple, remotely operated, and profitable business.
The marketing efforts implemented for iBOXED Self Storage have led to remarkable results, with a staggering 420% increase in occupancy achieved over the past three months. Through strategic actions such as updating website content, creating engaging social media graphics, running targeted paid social media advertising, and designing attention-grabbing flyers, the marketing campaign has successfully transformed the company's performance. The impact of these efforts has positioned iBOXED as a strong self storage contender in Teesside.

Lewis Pennicott, Marketing Director at Cleveland Containers
Interested in BOX+?
Discover more about BOX+ today
You may also be interested in...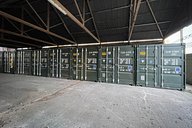 Family-run business, Chapel Hill Storage, uses additional barn space to house its shipping containers.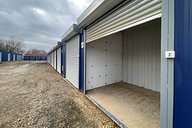 TS3 Storage modify its containers to offer a range of unit sizes and accessibility options.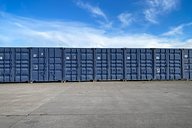 Vaults & Vehicles Self Storage purchases used containers with repainted fronts and backs to make the site look uniform.