Kier Highways
Kier required a unit that was compliant with COSHH regulations and opted for a modified 20ft chemical storage container.
Kier is the UK's leading highways service provider, with more than 90 years' experience delivering a wide range of road, bridge, and tunnel projects all over the country.
The operations team at Kier reached out to us as they needed a safe and secure space to store all the authorised and approved pesticides that are used on the local authority network.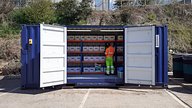 Having viewed our website and seeing that we have completed many chemstore projects previously, there was no doubt that we would be able to supply a converted shipping container compliant with COSHH regulations.
Our modifications team took a new 20ft Shipping Container and moved the cargo doors to the centre of one of the long sides to form an access point along the length of the container. An infill panel was then used to replace the doors.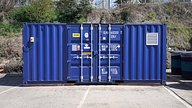 Cleveland Containers captured our attention when we were initially searching for suppliers as the website is fantastic with plenty of example images. The interaction and communication with Eddie Rees (Conversions Manager) was pivotal - the first impressions from a telephone conversation were engaging and productive, with the options available to our requirements explained clearly. The customer service has been incredible, from the first enquiry about a quotation, all the way through the process, right up to the delivery. Overall, a hassle-free, stress-free experience.

Westley Eaborn, Supervisor - Arboricultural Operations at Kier Highways
To create the bunded floor, a sheet metal tray and raised grated flooring were installed across the entire base of the container, with a drain valve placed underneath the short side. Two louvre vents were added at opposite ends of the unit to increase airflow.
Racking was fitted alongside three of the walls to provide ample shelving space for the storage of pesticides.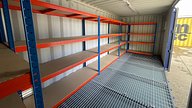 Finally, lighting and electrics were installed internally, and an external isolator was placed next to the cargo doors.
The modified unit provides Kier with an easily accessible working area that offers plenty of space for the safe storage of chemicals.
Need our help?
Talk to us about your container project today...
You may also be interested in...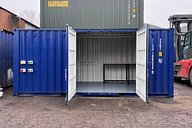 We provided The Channel Tunnel Group with a 20ft workshop modified to suit their exact requirements.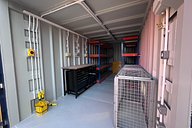 We modified a 10ft and 20ft Shipping Container to become COSHH stores for the electrical engineering company.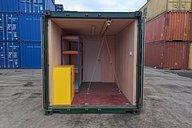 We created a 50:50 Workshop/Store from a 20ft New Tunnel Container to be used on a ship that services wind farms.