50:50 Workshop/Store
We created a 50:50 Workshop/Store from a 20ft New Tunnel Container to be used on a ship that services wind farms.
To separate the unit into two sections we installed a steel partition with a multipoint locking personnel door and lined both sides with 12mm marine plywood to provide extra protection as the container will be used at sea.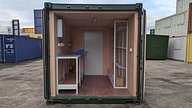 The workshop end features a heavy-duty steel workbench and 6-inch bench vice with an 18mm timber shelf underneath. We also added a steel fabricated rigging loft with weld-mesh panels. These were all secured to the walls and floor to prevent any movement or damage when on the ship. As the ship supplies 400V power, this half also includes a 400V inlet and transformer so that 240V and 110V sockets can be used for power tools.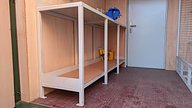 The store side includes racking, to which we added a 25mm angle to the shelves to prevent boxes sliding off and secured this to the walls and floor. A double 240V socket was added on wall above the bottom shelf of the racking. Beside this sits a Bisley bunded COSHH cabinet secured to the wall only to prevent piercing the bund.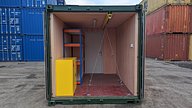 A 600KG SWL (Safe Working Load) sliding lifting beam was installed to load heavy pallets into the store, along with eight spring loaded lashing points on the floor to secure them.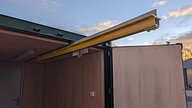 On both sides, lashing rings were welded to the cargo door jambs to allow for a cargo net to be tied in the door openings to prevent loose items falling out if the doors are opened in rough seas. Finally, non-corrosive LED lights were added to improve the lighting inside the container.
Need our help?
Talk to us about your container project today...
You may also be interested in...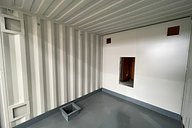 We were tasked by a renewable energy firm to modify a 20ft standard height new (one trip) container so that it could be used at sea to safely house a generator.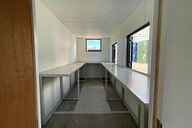 This year we modified a 40ft High Cube New (One Trip) container to be used as a store and workshop for Tuthill Porsche at the East African Safari Classic Rally.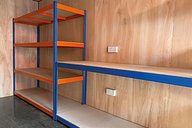 Recently, we were approached by an academy trust based in Hampshire, who needed extra workshop space in which to hold their design & technology lessons.