Nagels UK
Nagels UK required temperature sensitive storage for their materials and we provided the solution of a treated shipping container.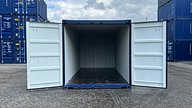 Nagels UK is a leading manufacturer and supplier of tickets in the parking and transport sector.
The warehouse and distribution team required a storage solution to hold thermal roll stock and other packaging for the business, in an environment which would not compromise the materials. After exploring different options, they decided to use a modified shipping container for their storage requirements.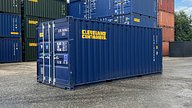 For this project, Grafo-therm was added to the roof of a 20ft One Trip Container to assist with the temperature sensitive storage needs.
Grafo-therm is a treatment used to maintain stable temperatures and reduce the risk of condensation. This provides a safer environment to store goods made from materials which could be easily perishable.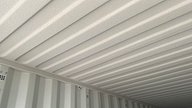 Overall we provided Nagels UK with a treated container to meet their specific needs.
Cleveland Containers provided a detailed description of both the container and service we required. The price of both the product and service was also a bonus. The process from receiving a quotation and ordering was simple and easy, which Andrew definitely made easier with his professional advice. If we ever need another container, I know who to contact!

Carl Jackson, Warehouse & Distribution at Nagels UK
Need a modified container?
Talk to us about your specific requirements today…
You may also be interested in...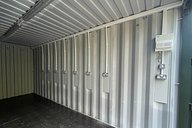 This 20ft container was fitted with 8 double sockets and LED lights, using stitch-welded hard spot plates for heat control.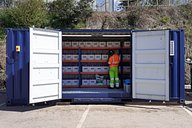 Kier required a unit that was compliant with COSHH regulations and opted for a modified 20ft chemical storage container.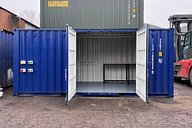 We provided The Channel Tunnel Group with a 20ft workshop modified to suit their exact requirements.