20ft Container with 8 Double Socket Electrics
This 20ft container was fitted with 8 double sockets and LED lights, using stitch-welded hard spot plates for heat control.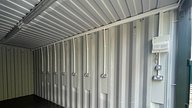 Electrics are often installed into containers to utilise the space, especially for business purposes. They help transform a shipping container into a bespoke office or workshop space.
For this project, the customer approached us requiring a modified 20ft Standard One Trip Container, fitted with eight double sockets, all along one long side, as well as two LED lights. Before the electrical work could commence, hard spot plates were stitch welded onto the container.
Hard spot plates are installed to serve as mounting points for the sockets and lights. They prevent any drilling directly onto the container flutes (the protruding corrugations of the internal wall), ensuring there is no compromise with the unit being wind and water tight.
Stitch welding was the preferred method for this as there is more heat control. The gaps in the weld allows the heat to disperse, reducing the risk of warping and distortion.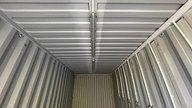 The double electrical sockets were evenly separated from one another, and the plugs were positioned 1200mm from the floor as per the customers request. The LED lights were fitted across the roof of the container along with an internal switch, completing the unit ready for the customer to add their own features.
Need a modified container?
Talk to us about your container project today…
You may also be interested in...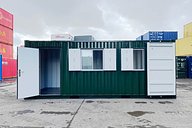 Our team transformed a 20ft One Trip Container into a customisable office space.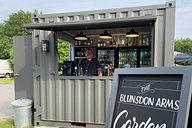 The modifications team created a cool and stylish 10ft bar from a shipping container for a pub in Swindon.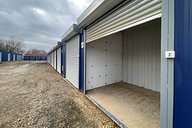 TS3 Storage modify its containers to offer a range of unit sizes and accessibility options.