With their unique, industrial look and feel, shipping containers are perfect for a drinking experience with a cool city atmosphere. The benefits of a container bar is that they are cheap to build, they look great and stand out amongst other bars, and you could even pick it up and change the location.
STACK based in Newcastle has a range of different containers to suit the needs of the shoppers and party goers in the North East, with the Heineken Bar, Havana Club, Barley & Me and the YOLO bar, there is plenty of choice when it comes to stopping for a drink. These bespoke containers were actually supplied by us and consist of a full fit out, including draft pumps and shelves full of all the alcohol a bar could need!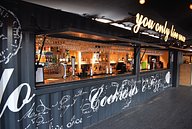 Another great example of a shipping container that has been modified into a bar is the Hermes pop up shop which appeared in Japan in October 2019. This shipping container was painted to match the signature orange of the Hermes brand, and lined with a popular brand icon, silk scarves. This pop-up shop which doubled as a bar highlighted to consumers the different ways they could wear the scarves and also served a range of multicoloured drinks.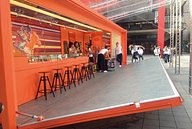 Another innovative idea that some companies have executed, is hiring out pre-fitted shipping containers. There are numerous events companies nationally and internationally who have bought one trip shipping containers, fitted them out as a bar, or a pub, and then go on to hire them out for things such as outdoor weddings, food and drink festivals, and other large outdoor events.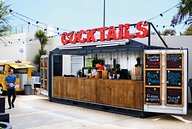 Pictured below is a conventional bar in Boston which has been designed to reflect the style of the client to give a "cooler" feel. This shipping container was converted into a 12 seat, full service outdoor bar, built in only 32 days!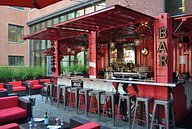 Need our help?
Talk to us about your container project today...
You may also be interested in...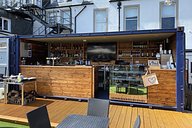 "The best business decision I've ever made". Sales are set to soar for the North Berwick B&B following the launch of its side opening container bar.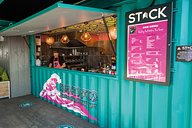 Make sure your hospitality business is ready to overcome the post lock-down queues with our ultimate catering shipping container guide!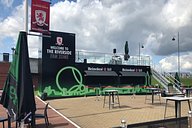 Cleveland Containers and Middlesbrough Football Club came together to create a fan zone space using shipping containers.