Offshore Generator Housing
We were tasked by a renewable energy firm to modify a 20ft standard height new (one trip) container so that it could be used at sea to safely house a generator.
For this project, a steel partition wall was installed in the centre of the container, separating the unit into two compartments.
On one side, the interior walls and ceiling were ply lined, insulating this half of the unit, and the floor was created by coating a steel sheet with an abrasive anti-slip finish to reduce the chances of anyone falling in a potentially wet environment.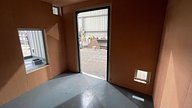 In the same section, we installed a galvanised personnel door with a high spec fire escape push-bar and external access handle to ensure that these parts could withstand the salt-rich marine environment. The fire escape gear is rated to 1,600 hours of neutral salt spray solution testing, which means that it showed no signs of corrosion during this time.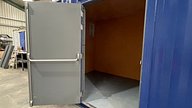 On the other side, we installed bunded flooring to safely contain any environmentally hazardous spillages and added a drain on the front to allow for removal. A square opening was included on the bunded floor to pass cabling underneath the container while remaining watertight.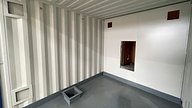 To further protect the unit from corrosion, we painted the underside of the steel floor and the bund (which is now inaccessible) to prevent rusting through from the back and coated the external faces of the opening in bitumen, a highly viscous substance known for its waterproofing and adhesive properties.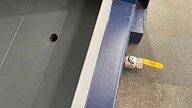 Window openings were installed at various points internally and externally to feed any cables and pipes through.
To finish, the exterior of the container was fully resprayed with extra coats of its original blue colour (RAL 5013) to add further protection against the elements to increase its longevity at sea.
Need our help?
Talk to us about your container project today...
You may also be interested in...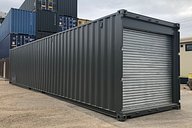 People buy shipping containers for various reasons, ranging from secure storage, to creating bars and restaurants. Occasionally, it is recommended to carry out modifications to a standard container, and this bespoke project was no exception!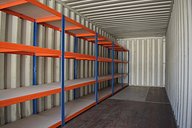 A school in Middlesbrough needed a modified shipping container with substantial shelving to use as an extra storage area.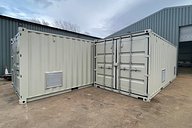 Cremator and incinerator suppliers Facultatieve Technologies came to us as they required a secure storage solution to house their cremation ovens for their customers in Europe.